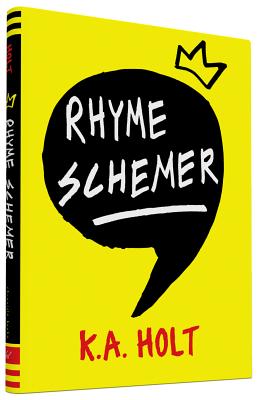 Rhyme Schemer (Hardcover)
Chronicle Books, 9781452127002, 176pp.
Publication Date: October 14, 2014
* Individual store prices may vary.
Description
Kevin has a bad attitude. He's the one who laughs when you trip and fall. In fact, he may have been the one who tripped you in the first place. He has a real knack for rubbing people the wrong way—and he's even figured out a secret way to do it with poems. But what happens when the tables are turned and he is the one getting picked on? Rhyme Schemer is a touching and hilarious middle-grade novel in verse about one seventh grader's journey from bully-er to bully-ee, as he learns about friendship, family, and the influence that words can have on people's lives.
About the Author
K. A. Holt has written three books for children. She lives with her family in Austin, Texas, and is active within the vibrant Texas writing community.
Praise For Rhyme Schemer…
"A delightful story with just the right amount of boy language, wonderful free verse poetry, and underlying messages."--Library Media Connection, starred review

"This transformative tale offers important lessons for all persuasions of middle graders, whether bullies or targets, complicit or horrified bystanders."--Kirkus Reviews

"The book closes with a smile and a very important middle school reminder: Be Kind. "--Reading Today

"Poetry-writing seventh-grade bully both is believable and sympathetic, and his voice rings totally authentic."-Booklist

"In the richly imaginative Rhyme Schemer (which I laughed through on a 90 minute plane ride) K.A. Holt's sparkling poetry is akin to Cliff Huxtable's loonylook--eccentric, entertaining, essential. From the first Flaming Turtle to the last Shrieking Tornado, all I could think was, just like Kevin (her 7th Grade poet narrator), verse novels will never be the same. . "--Kwame Alexander, author of The Crossover

"Bullies, those bullied, and bystanders alike will be left with much to ponder."--Publishers Weekly

"A strong anti-bullying message. ideal for classroom use."-School Library Journal