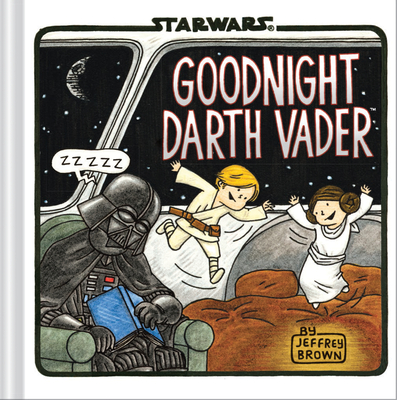 Goodnight Darth Vader (Star Wars Comics for Parents, Darth Vader Comic for Star Wars Kids)
Hardcover

* Individual store prices may vary.
Description
It's time for a Star Wars bedtime story in a galaxy far, far away, and Darth Vader's parenting skills are tested anew in this delightful follow-up to the breakout New York Times Star Wars books bestsellers Darth Vader™ and Son and Vader's™ Little Princess. In this Episode, the Sith Lord must soothe his rambunctious twins, Luke and Leia—who are not ready to sleep and who insist on a story. As Vader reads, the book looks in on favorite creatures, droids, and characters, such as Yoda, R2-D2, Han Solo, Chewbacca, Darth Maul, Admiral Ackbar, Boba Fett, and many others as they tuck in, yawn, and settle down to dream. As ever, Jeffrey Brown's charming illustrations and humor glow throughout, playing on children's book conventions to enchant adults and kids alike. This Star Wars makes a fun, unique pregnancy gift, a new Dad gift, or funny new parent gift!

© and TM Lucasfilm Ltd. Used Under Authorization
Praise For Goodnight Darth Vader (Star Wars Comics for Parents, Darth Vader Comic for Star Wars Kids)…
"Goodnight Darth Vader is fun for the whole family."
-Family Choice Awards-

"Goodnight Darth Vader quite simply is the perfect bedtime book for your youngest kids. It's filled with gorgeous artwork and lots of scenes of the various characters of Star Wars getting ready for bed. This 64 page hardcover won't take long to read, but will hopefully put your children in just the right mindset to fall asleep. And for us older Star Wars fans, there's some nice nods to the films."
-Roqoo Depot-

"Goodnight Darth Vader by Jeffrey Brown is a great gift book for the Star Wars fan in your life. I think it will delight anyone with a healthy sense of humor. For parents like me, it means I get to read a book to my son that we both enjoy instead of it being a one sided affair. It probably also means I read to him even more, which is a great thing. I recommend picking this one up. I have the other books in the series too but I think this is my favorite by far."
-MakingStarWars.net-

"Episode Eight P.M.: Bedtime." Darth Vader may rule the galaxy, but that doesn't mean he can get his twins, Luke and Leia, to go to sleep. They beg him to read them a bedtime story, and the tale takes readers across the Star Wars universe, incorporating characters and references from all the movies, including Star Wars: The Clone Wars. It is adult fans who are most likely to know who Ahsoka is, to be amused by baby Han and Chewie unable to sleep in "this wretched hive of scum and villainy," or to laugh at Admiral Ackbar's line, "It's a bedtime snack!" And thanks to the overall silly content, even if little ones don't catch all the references, they're likely to get a kick out of this, too. The pages are filled with Brown's cartoony and detailed art, giving readers and listeners alike a lot to enjoy...A perfect choice for nerdy parents."
-Booklist-

"I would like to start with a small request.I would like Jeffrey Brown to continue to make "Star Wars" books..forever. He started with "Darth Vader and Son" and then "Vader's Little Princess" and now "Goodnight Darth Vader", which is the best of them all. ... If you have kids, this is a must purchase.if you don't and still love "Star Wars", this is still a must purchase."
-MediaMikes-

"Stars Wars lovers and their children will giggle as Darth Vader attempts to coax his twins - Luke and Leia, of course - to sleep in Goodnight Darth Vader by Jeffrey Brown. The rhyming book features fantastic illustrations and imagined scenarios about what the Star Wars universe looks and sounds like at bedtime."
Savvy Sassy Moms-

Holiday Gift Guide Pick
"A fun, appropriate gift for the child in your life, and an even more adorable gift for the adult Star Wars fans out there."
-Geeks of Doom-
Chronicle Books, 9781452128306, 64pp.
Publication Date: July 22, 2014
About the Author
Jeffrey Brown is an Eisner Award–winning artist and writer of Darth Vader™ and Son, Vader's™ Little Princess, Kids Are Weird, and numerous graphic novels and comics. A lifelong Star Wars fan, he lives in Chicago with his wife and two sons.