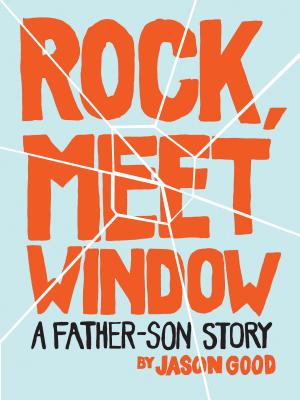 Rock, Meet Window (Hardcover)
A Father-Son Story
Chronicle Books, 9781452129228, 224pp.
Publication Date: May 5, 2015
Other Editions of This Title:
MP3 CD (9/6/2016)
* Individual store prices may vary.
Description
This funny and poignant memoir from celebrated familyman blogger Jason Good delves into the magic, fails, and meaning of fatherhood. Here he shares the story of his father, a charismatic, communicative, and affectionate man who taught him how to live and how to be a dad to his own two young sons. The moment Jason was told he would lose his father to cancer, and the year that followed, inspired him to reflect on how an imperfect father can be perfection in all the ways that matter in the end. Exploring the highs, lows, and complications of fatherhood with tenderness and humor, Rock, Meet Window will have fathers (and mothers, too) thinking about those extraordinary qualities that make a good father so special to us all.
About the Author
Jason Good, also the author of This Is Ridiculous This Is Amazing, is a writer, comedian, family man, and the blogger behind JasonGood.net and the viral posts "3 Minutes Inside the Head of My 2-Year Old" and "46 Reasons My Three-Year-Old Might Be Freaking Out." He lives in Minneapolis, Minnesota.
Praise For Rock, Meet Window: A Father-Son Story…
Serious illness may have been the force to bring this father and son closer, but comedy ultimately infuses their shared sense of understanding, respect and camaraderie. --Shelf Awareness for Readers
In which ways is Jason's relationship with his father similar or dissimilar from your own relationship with your mother or father. Michael is a unique and interesting person, but is there anything unique about his relationship with Jason?generic viagra price canada
Was there a moment in your life when you suddenly saw your mother or father as a true adult –flaws and all?generic viagra price canada
If you have children, did becoming a parent help you understand your own parents more accurately, or provide you with a different perspective on them? What are they like as grandparents?generic viagra price canada
Does Jason idolize his father? Or does he have a healthy, realistic idea of who he is and his relationship to him.generic viagra price canada
What do you think of Jason's mother? Is she really as simple as he makes her out to be, or is there a depth to her that he perhaps left unexplored?generic viagra price canada
Michael experiences a difficult time with his brother, Paul in relation to stem cell donation. Would you donate stem cells or bone marrow to a sibling? Is it OK for someone who doesn't trust traditional, western medicine to decline donating based on his or her own fears and suspicions?generic viagra price canada
Clement shared some personal emails with Michael in regards to this issue. Do you think it was right for him to do that? How do you imagine Gayle feels, knowing that her opinions were forwarded without her knowledge?generic viagra price canada
What do you think about the level of involvement Jason had with his father's illness?generic viagra price canada
Michael is very specific that he doesn't care about a funeral. "What do I care? I'll be dead," he says. Do you believe him?generic viagra price canada
Have you cared for an ailing parent? How did it change your relationship with him or her?generic viagra price canada
or
Not Currently Available for Direct Purchase