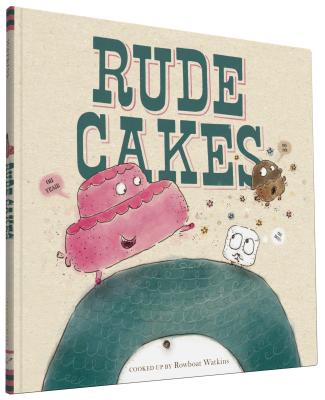 Rude Cakes
Hardcover

* Individual store prices may vary.
Description
2016 Ezra Jack Keats Book Award – New Illustrator Honor
Who knew that cakes were so rude?! In this deliciously entertaining book, a not-so-sweet cake—who never says please or thank you or listens to its parents—gets its just desserts. Mixing hilarious text and pictures, Rowboat Watkins, a former Sendak fellow, has cooked up a laugh-out- loud story that can also be served up as a delectable discussion starter about manners or bullying, as it sweetly reminds us all that even the rudest cake can learn to change its ways.
Praise For Rude Cakes…
"A truly surreal story, crammed with hilarious details and gently laced with an important lesson."--School Library Journal, starred review

"Packed with hilarious details and grin-bringing surprises - and it works in a lovely message, too."--Design Mom

"Kids will be asking-oh so nicely-to 'Read it again,please!'"-Booklist, starred review

"In very few words and completely without preaching, Rude Cakes lets us laugh our way through a lesson on social skills and self reflection."-Wink Books

2016 Ezra Jack Keats Book Award honor winner

"Rude Cakes is a classic cautionary tale that also manages to be original, subversive, and very funny."--Sergio Ruzzier, author of A Letter for Leo

"Makes a familiar message about thoughtfulness fresh and tasty."-Publishers Weekly, starred review

"The best picture-book debut of 2015 is Rowboat Watkins' Rude Cakes. "--Phil Nel, Nine Kinds of Pie and The Niblings

"This witty, original debut... with adorably scruffy art and a clever, gag-filled story, Watkins brings a refreshing irreverence to the often deadly mind-your-manners genre."--The New York Times

"The zaniest picture book premise of the year."--Boston Globe

BuzzFeed's 29 Ridiculously Wonderful New Books To Read With Kids

"Wacky!"--Parents Magazine

"Sweet as sugar with just the right touch of strangeness."--Chicago Tribune

"Appetizing illustrations and scrumptious humour."--Babiekins

"Hilarious and full of surprises. Pure picture book genius!"-Antoinette Portis, author of the New York Times Bestseller, Not a Box

"I love this book. I laughed from the first page to the last... a trip to the corner of Please and Thank You, sprinkled with deliciously unexpected twists."--Jill McElmurry, author of Mario Makes a Move and I'm Not a Baby

"It's funny and it teaches some important lessons about manners."--GeekDad
Chronicle Books, 9781452138510, 40pp.
Publication Date: June 2, 2015
About the Author
Rowboat Watkins is mostly a dad who likes to tell stories and draw. He lives with his family in Brooklyn, New York.