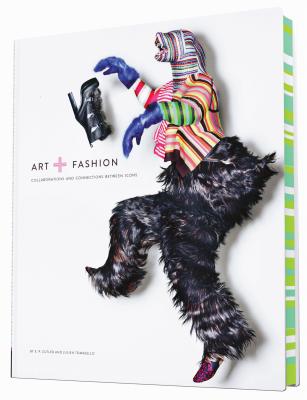 Art + Fashion (Hardcover)
Collaborations and Connections Between Icons
Chronicle Books, 9781452138695, 224pp.
Publication Date: October 13, 2015
* Individual store prices may vary.
Description
A volume of magnificent proportions, Art + Fashion is as exciting and elegant as the creative partnerships it celebrates. Spanning numerous eras, men and women's fashion, and a wide range of art mediums, these 25 collaborative projects reveal the astonishing work that results when luminaries from the art world (such as Pollock, Haring, and Hirst) come together with icons of the fashion world (including Saint Laurent, Westwood, McQueen). From 20th-century legends such as Elsa Schiaparelli and her famous lobster dress painted by Salvador Dalí to 21st-century trailblazers such as Cindy Sherman and her self-portraits in vintage Chanel, these electric and provocative pairings—represented in lavish visuals and thoughtful essays reflecting on the history of each project—brim with the energy and possibility of powerful forces uniting.
About the Author
E. P. Cutler is an internationally published fashion journalist and fashion historian. She lives in New York City.

Julien Tomasello is an award-winning art and photography editor based in New Jersey.
Praise For Art + Fashion: Collaborations and Connections Between Icons…
"Fine art and high fashion are natural bedfellows, and this new book chronicles some of the most exciting crossovers. From the surreal pairing of Elsa Schiaparelli and Salvador Dali (which birthed the iconic Lobster Dress) to Alexander McQueen's beautifully grotesque collaborations with Damien Hirst, the photos and essays in Art + Fashion illuminate just how stunning these crossovers can be." - San Francisco Chronicle

"Over the past decade, collaborations between fashion designers and artists have become increasingly ubiquitous - from Takashi Murakami's work with Louis Vuitton to Damien Hirst's partnership with Alexander McQueen and Jeff Koons's with Stella McCartney. 'Art + Fashion' examines the historically contentious relationship between the two fields through the lens of 25 collaborations, including Elsa Schiaparelli and Salvador Dalí's iconic lobster dress, Cecil Beaton's 1951 Vogue editorial (featuring models in ball gowns posing in front of Jackson Pollock paintings) and Vivienne Westwood's Keith Haring-covered textiles." - NYTimes.com

"Having a foot in both disciplines, working as an artist and teaching my grad fashion students at The School of the Art Institute, I am very interested in the conversation that happens at this intersection and how it advances each practice. I am looking forward to seeing how Art + Fashion will open up this conversation and connection further and share it with a wider audience."
- Nick Cave