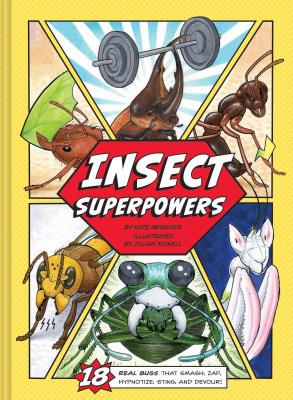 Insect Superpowers
18 Real Bugs that Smash, Zap, Hypnotize, Sting, and Devour! (Insect Book for Kids, Book about Bugs for Kids)
Hardcover

* Individual store prices may vary.
Description
Insect Superpowers is an action-packed nonfiction picture book about the incredible insect abilities found in the natural world. Packaged comic book style, this book explores 18 awesomely real superheroes and supervillains, who each possess powers far beyond the average insect.

Meet the Malevolent Mimic, who wickedly disguises itself as a harmless pink orchid only to shred unsuspecting butterflies, or the Great Glue Shooter, who can blast a smelly glue from its face.

• Presents insects as superheroes and supervillains who excel in head-to-head combat, astounding weapons, and extraordinary skills
• All facts are equally real and amazing
• Written by award-winning nonfiction author Kate Messner

Insect Superpowers is the perfect pick for young entomologists, reluctant readers, and any kid who has ever been equally grossed out and fascinated by a bug.

This thrilling look at insects will entertain and educate readers ages 8 to 12 years old, as well as the adults that read with them.

• A wonderful gift for teachers, librarians, and Common Core educators who are looking to teach about insects in a fresh and exciting way
• Perfect for parents and caregivers of science, nature, and bug-obsessed kids
• Great for fans of comic books, superheroes, and graphic novels, as well as reads like Bugs A to Z by Caroline Lawton, Ultimate Bugopedia: The Most Complete Bug Reference Ever by Darlyne Murawski and Nancy Honovich, and Atlas of Animal Adventures by Rachel Williams and Emily Hawkins
Praise For Insect Superpowers: 18 Real Bugs that Smash, Zap, Hypnotize, Sting, and Devour! (Insect Book for Kids, Book about Bugs for Kids)…
"Impressive. Action-packed. [Insect Superpowers] gives readers a fun and delightfully creepy way to learn about insect adaptations."— Booklist, starred review

"[V]ivid. enthralling... Middle-grade report writers might have to get on the hold list if browsers spot [Insect Superpowers] first."— The Bulletin of the Center for Children's Books

"Together Messner and Nickell have created text and pictures with exquisite details. Any educator who wants to excite their students about nature and insects will love this book. Science teachers and school librarians will definitely want to add this title to their collection."— Booklist,starred review

"The insect world is buzzing with superpowers! Jumping on the superhero bandwagon, Messner and Nickell bring readers a fascinating and fun read. Nickell's illustrations keep the pages turning. Messner's text flows smoothly in this action-packed format. [Insect Superpowers] will be popular."— Kirkus Reviews

"Jillian Nickel's illustrations are bold, large, colorful, extremely descriptive, and wonderfully eye-catching. Together Messner and Nickel have created text and pictures with exquisite details."— School Library Journal
Chronicle Books, 9781452139104, 80pp.
Publication Date: November 5, 2019
About the Author
Kate Messner is the award-winning author of Over and Under the Snow and more than a dozen other books for young readers. She lives on Lake Champlain with her family.

Jillian Nickell is a freelance illustrator, screen printer, and teacher living in Chicago, Illinois. Her work has been included in the Society of Illustrators' Illustrators 52 and Illustrators 55 award shows and book publications.