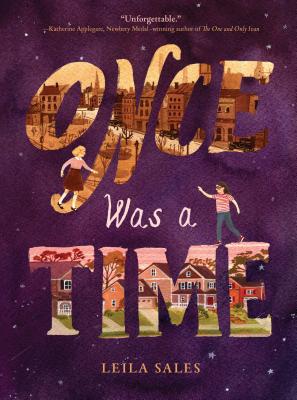 Once Was a Time
Hardcover

* Individual store prices may vary.
Other Editions of This Title:
Paperback (10/3/2017)
Description
In the war-ravaged England of 1940, Charlotte Bromley is sure of only one thing: Kitty McLaughlin is her best friend in the whole world. But when Charlotte's scientist father makes an astonishing discovery that the Germans will covet for themselves, Charlotte is faced with an impossible choice between danger and safety. Should she remain with her friend or journey to another time and place? Her split-second decision has huge consequences, and when she finds herself alone in the world, unsure of Kitty's fate, she knows that somehow, some way, she must find her way back to her friend. Written in the spirit of classic time-travel tales, this book is an imaginative and heartfelt tribute to the unbreakable ties of friendship.
Praise For Once Was a Time…
"Lottie's fortitude and resolve make her an admirable and sympathetic protagonist."-Publishers Weekly

"Shines in its portrayal of friendship... will appeal to fans of When You Reach Me and A Wrinkle in Time."-School Library Journal

"A very beautiful story about the power of friendship."--India Winslow, children's bookseller, Brookline Booksmith

"Blew me away... heart-wrenching and beautiful and totally unexpected."-- Geek Dad

"Once Was a Time has it all: suspense, humor, an intrepid heroine, and an intriguing take on time travel. But at its heart, Leila Sales's dazzling tale is about a friendship so powerful that nothing-not even time itself-can break its bonds. Unforgettable." -Katherine Applegate, Newbery Medal-winning author of The One and Only Ivan

The friendship of two 10-year-old English girls is tested when one travels through a portal to the future. In 1940, food rationing and fear of bombs are the backdrop for best friends Lottie and Kitty, who care more about anagrams and playing make-believe than the war. Lottie's scientist father researches time travel, work that's governed by the Official Secrets Act and coveted by the Nazis. The girls are kidnapped and taken to a cellar where Germans are trying to coerce Lottie's father into revealing his research. Lottie sees a shimmering portal and leaps through just as shots are fired, landing in a small Wisconsin town in 2013. She's befriended by a helpful librarian and a boy her own age named Jake. The passage of three years confirms her father's hypothesis that there is no returning to her own time. Lottie adjusts to a new school and life with a foster family, when she finds a postcard from Kitty addressed to her and stuck in a library book, raising her hopes that her friend is still somewhere to be found. Lottie's first-person account has a lighthearted tone, with lots of dialogue and details contrasting childhood in wartime England with modern-day America. Her transition to her new life is awkward but realistic, and the focus of this charming novel is always on friendship and loyalty. Rewarding and uplifting.

"An imaginative and heartfelt tribute to the unbreakable ties of friendship."--Middle Shelf Magazine

"The bond between Lottie and Kitty-proves to be both tender and unstoppable." -Booklist

"A timeless story of best friendship that is as original as it is authentic, as elegant as it is heart-wrenching. Sales is a master storyteller." -Courtney Sheinmel, author of Sincerely and the Stella Batts series

"At once epic and intimate, bold and gentle, and as boundary-breaking and timeless as the friendship that is at this story's magnificent heart. A gorgeous, exciting read." -Anne Ursu, author of the National Book Award-longlisted The Real Boy

"Will delight those who prefer to revel in the vast mysteries of time and coincidence."--The Horn Book Magazine

"Superb. Months after first reading the book, I find myself reflecting on its characters and outcomes."--The Children's Book Review

"Touching, bittersweet ending."-VOYA: Voice of Youth Advocates
Chronicle Books, 9781452140094, 272pp.
Publication Date: April 5, 2016
About the Author
Leila Sales is the author of the young adult novels Mostly Good Girls, Past Perfect, This Song Will Save Your Life, and Tonight the Streets Are Ours. She grew up outside of Boston, Massachusetts, graduated with a degree in psychology from the University of Chicago, and now lives in Brooklyn, New York. Once Was a Time is her first book for younger readers. Learn more at LeilaSales.com and follow her on Twitter at @LeilaSalesBooks.