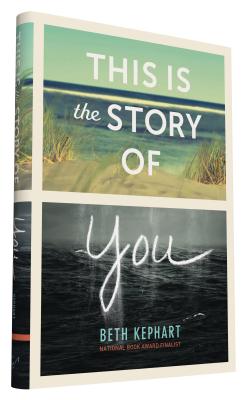 This Is the Story of You (Hardcover)
Chronicle Books, 9781452142845, 264pp.
Publication Date: April 12, 2016
* Individual store prices may vary.
Description
On Haven, a six-mile long, half-mile-wide stretch of barrier island, Mira Banul and her Year-Rounder friends have proudly risen to every challenge. But then a superstorm defies all predictions and devastates the island, upending all logic and stranding Mira's mother and brother on the mainland. Nothing will ever be the same. A stranger appears in the wreck of Mira's home. A friend obsessed with vanishing disappears. As the mysteries deepen, Mira must find the strength to carry on—to somehow hold her memories in place while learning to trust a radically reinvented future. Gripping and poetic, This Is the Story of You is about the beauty of nature and the power of family, about finding hope in the wake of tragedy and recovery in the face of overwhelming loss.
About the Author
Beth Kephart is the award-winning author of books for both adults and young readers, including Going Over and This Is the Story of You. She lives in Devon, Pennsylvania, and teaches creative nonfiction at the University of Pennsylvania.
Praise For This Is the Story of You…
"A beautiful story."-Tim Wynne-Jones, winner of the Boston-Globe Horn Book Award for Blink & Caution

«"A moving epic of a super storm and how it unravels the lives of those caught in the midst."-VOYA: Voice of Youth Advocates, starred review

"We fall in love with Kephart more and more every year"--Bookpage

"This isn't your ordinary disaster story."--Bustle.com

"This beautifully written book works on many levels and is rich in its characterization, emotion, language, and hint of mystery."--School Library Journal, starred review

"Smart, poignant, an absolute pleasure to read."--BookPage

"Showcases real life, the power of nature, and the power of people in the midst of disaster."--Cleaver Magazine

"Relatable characters and a poetic style."-Publishers Weekly

"An exploration of the unrelenting power of nature and a reminder of the one thing in the world that is irreplaceable: family."--Booklist

"A powerful, gorgeous novel"-Dana Reinhardt, award-winning author of The Things a Brother Knows and We Are the Goldens