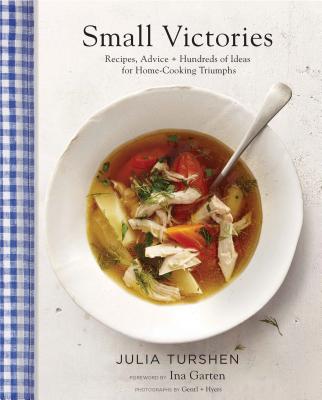 Small Victories
Recipes, Advice + Hundreds of Ideas for Home Cooking Triumphs (Best Simple Recipes, Simple Cookbook Ideas, Cooking Techniques Book)
Hardcover

* Individual store prices may vary.
Description
"I can't wait to cook my way through this amazing new book!" – Ina Garten (Host of Barefoot Contessa)"Simple, achievable recipes..." – Chef April Bloomfield (Owner of The Spotted Pig)
This cookbook of more than
400 simple cooking recipes
and variations from Julia Turshen, writer, go-to recipe developer, co-author for best-selling cookbooks such as Gwyneth Paltrow's
It's All Good
, and Dana Cowin's
Mastering My Mistakes in the Kitchen
, and author of her cookbooks
Now & Again
and
Feed the Resistance
. The process of truly great home cooking ideas is demystified via more than a hundred lessons called out as "small victories" in the funny, encouraging headnotes; these are lessons learned by Julia through a lifetime of cooking thousands of meals. This beautifully curated, deeply personal collection emphasizes bold-flavored, honest food for breakfast, lunch, dinner, and dessert. More than 160 mouth-watering photographs from acclaimed photographers Gentl + Hyers provide beautiful instruction and inspiration, and a gingham spine elevates this entertaining and essential kitchen resource into a covetable gift cookbook for both beginners and accomplished home cooks.
Features high-quality photos of recipes to follow while cooking
Recipes crafted by the author to be both easy to make and follow
Readers of Feed The Resistance, Damn Delicious, and Sneaky Chef will enjoy the simplicity and deliciousness of all recipes featured in this book. This collection of recipes makes for an ideal:
Home Cooking Book
Healthy Recipes Cookbook
Technique Cookbook
Cookbook for Family Recipes
Praise For Small Victories: Recipes, Advice + Hundreds of Ideas for Home Cooking Triumphs (Best Simple Recipes, Simple Cookbook Ideas, Cooking Techniques Book)…
"Small Victories by the wonderful Julia Turshen will make you fall deeply in love with her simple and achievable recipes, whilst teaching you the importance of mastering basic techniques that make us all better cooks!"-April Bloomfield

"Julia Turshen always knows exactly what I want to eat. She has the kind of cook's intuition you can only gain though years of focus and passion. Her honest, inspired recipes have reinvigorated my cooking routine and made Small Victories an invaluable addition to my kitchen library."-Gail Simmons

"Julia Turshen cooks exactly the way I like to eat: simply, eclectically and with a lot of flavor. Her book is a perfect guide to countless delicious dishes that are both interesting and imminently do-able."-Dana Cowin

" An inspiring addition to any kitchen bookshelf" Real Simple

"This is Ms. Turshen's first cookbook as a solo author, but she has co-written others with the likes of Mario Batali, Gwyneth Paltrow and Dana Cowin. She's also a recipe tester and developer-a skill that shines through in a book aimed at aspiring, eager home cooks; you won't find any molecular gastronomy in these pages.
Ms. Turshen is a self-deprecating, warm and charming writer."-- Wall Street Journal

"I've been waiting for this book! I love Julia's cooking and had a few lessons from her. She knows how to make things that are easy, delicious, and chic!" - Sofia Coppola

Small Victories is so lively, so encouraging, and so filled with easy solutions that it's the perfect book for someone who loves food but is nervous in the kitchen. I'll be giving it to every young cook I know. -Ruth Reichl

"Julia's SMALL VICTORIES is a HUGE VICTORY! It is the best cookbook ever; a stunning visual memoir that you'll soon have filled with post-its and turned-down pages."-Sally Field

"As practical as it is beautiful, this book is primarily meant for the kitchen novice. But the recipes are so intriguing and enticing that experienced cooks will be tempted. Each carefully thought-out and explained recipe is followed by delicious riffs."-Mimi Sheraton

"Small Victories is a chatty primer for the hesitant or unconfident cook but gives as much pleasure to those with years of kitchen experience. Rich in ideas, and far from basic in its span of recipes, this is a book that earns a place on any shelf."-Nigella Lawson

"Small Victories is precisely the kind of book that I can give to two kinds of people: to my non-cooking friends to let them know they can build their game, and to my professional chef friends to prove that there is always more to learn and that simple doesn't mean dumbed-down."-Mario Batali

"Electric with positive energy"-- The New York Times Best Cookbooks of Fall 2016

"The title of this book comes from the idea that learning to cook is a series of small victories: tiny lessons that, in sum, form a culinary education. These include concepts like putting a damp towel under a cutting board to keep it from moving while you chop, or freezing pesto in ice cube trays for easier use. Who couldn't use to learn a new trick or two?" Epicurious
Chronicle Books, 9781452143095, 304pp.
Publication Date: September 6, 2016
About the Author
Julia Turshen is the bestselling author of Feed the Resistance, named the Best Cookbook of 2017 by Eater, and Small Victories, named one of the Best Cookbooks of 2016 by The New York Times and NPR. She has coauthored numerous cookbooks including It's All Good with Gwyneth Paltrow, and hosted the first two seasons of Radio Cherry Bombe. She has written for The New York Times, The Washington Post, The Wall Street Journal, Vogue, T Magazine, Bon Appétit, Food & Wine, Saveur, and SELF. Epicurious has called her one of the 100 Greatest Home Cooks of All Time. Julia lives in the Hudson Valley with her wife and pets.

Ina Garten is a cookbook author and host of Barefoot Contessa on the Food Network. She lives in East Hampton, New York, and Southport, Connecticut.
Coverage from NPR