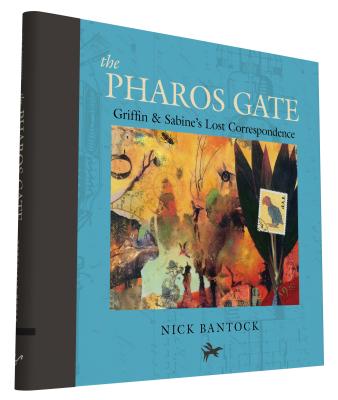 The Pharos Gate
Griffin & Sabine's Lost Correspondence (Griffin and Sabine Series, Chronicles of Griffin and Sabine)
Hardcover

* Individual store prices may vary.
Description
A love story for the ages, the tale of Griffin and Sabine is an international sensation that spent over 100 weeks on the New York Times bestseller list and continues to beguile readers 25 years after its original publication. Here to celebrate that anniversary is the final volume in Griffin and Sabine's story—a book that can be enjoyed as a singular reading experience or in conjunction with the series as a whole. The Pharos Gate rejoices in the book as physical object, weaving together word and image in beautifully illustrated postcards and removable letters that reveal a sensual and metaphysical romance, one full of mystery and intrigue. Published simultaneously with the 25th-anniversary edition of Griffin & Sabine, The Pharos Gate finally shares what happened to the lovers in a gorgeous volume that will surely delight Griffin and Sabine's longtime fans and a new generation of readers.
Praise For The Pharos Gate: Griffin & Sabine's Lost Correspondence (Griffin and Sabine Series, Chronicles of Griffin and Sabine)…
"There is one moment of great beauty at the end that will be worth the price of admission for any reader who loves these characters....Although the love letter seems to be a vanishing art, these books rejoice in the physicality and longing such letters embody. The books themselves are insistently physical, too, full of envelopes and notes, like wrapped presents on each page...These are enjoyable, lovely books that appeal to incurable romantics and people who like to open mail. How delightful it is to have this new one. Hurrah!"
-The Washington Post

"It all makes for a dazzling conclusion to the pair's long 'search for [their] equal opposites,' their desire to 'step beyond the mortal realm.' Maybe, once there, they'll send a postcard home."
-Hyperallergic

"It is every bit as beautiful as its predecessors; the gorgeous mixture of art styles and stationary, the echoing of a letter or postcard's contents, the delightful tactility of carefully removing a letter from an envelope affixed to the inside of a page and finding different styles of hand-writing in evidence. But more than its preceding volumes, The Pharos Gate addresses letter-writing as a magical act that can bridge worlds, resist the limits of space and time in order to connect one loving heart to another."
National Public Radio (NPR)

" Visually it's as decorative as the others, and constructed in the same multimedia manner: with letters that have to be plucked from their envelopes - a canny literary ploy that offers the reader a voyeuristic thrill."
-Sydney Morning Herald

"It's been 25 years since Nick Bantock introduced readers to two unlikely lovers, Griffin and Sabine, with a series of books that told their tale through letters and postcards to each other. This edition of the lavishly illustrated book, complete with actual letters to unfold and read, celebrates the anniversary and treats us to yet another chapter in their story."
-Parade

"Continues the love story of Griffin and Sabine, inventively told through illustrated postcards and removable letters."
-USA Today

"Griffin Sabine, by the Canada-based British artist Nick Bantock, seemed to have no precedent. It was as marvellous and mysterious as the story it contained. . . .For the reader, opening the envelopes is both a tactile pleasure and a voyeuristic one. The Pharos Gate, which presents itself as "the lost correspondence" between the first trilogy and the much later one, is full of beautiful letters and cards."
-The Telegraph (UK)

"The Pharos Gate is a powerful read, and is, as one would expect, well-supported by Bantock's art."
-The Vancouver Sun

"In this final, stunning volume of the Griffin Sabine saga, author and artist Bantock completes the inspiring story of two lovers who developed an epistolary relationship without ever meeting in the flesh. Each page of the book presents an intricately painted or drawn postcard on one side and the continued handwritten correspondence among Griffin, Sabine, and a few other characters on the other, or in some cases, actual envelopes that the reader will pull folded letters from. The artwork tells an ethereal story of its own, and as Griffin travels from England and Sabine journeys from the South Pacific to finally come together for the first time in Alexandria at the fabled Pharos Gate, the obstacles they each encounter take a mystical turn. The immersive experience of this book can be enjoyed on its own or in conjunction with the six other books in the series. However it is read, Bantock's conclusion to the epistolary epic is beautiful and truly singular."
-Publisher's Weekly

"Each page is fashioned with a careful, adept hand that seeks to draw the character's souls through the marriage of art and words, weaving them together across the continents and oceans. By the time Griffin and Sabine reach The Pharos Gate, you'll be right there alongside them, clutching their love letters in your hands and gazing open mouthed at the beauty of a conclusion that has always been as inevitable as their unlikely love story."
-BoingBoing/Wink Books
Chronicle Books, 9781452151250, 60pp.
Publication Date: March 22, 2016
About the Author
Nick Bantock, born and raised in England, now lives in Victoria, British Columbia. An acclaimed writer and artist, he is the author of books ranging from fiction to creative inspiration. His art is publicly and privately collected throughout the world.
or
Not Currently Available for Direct Purchase