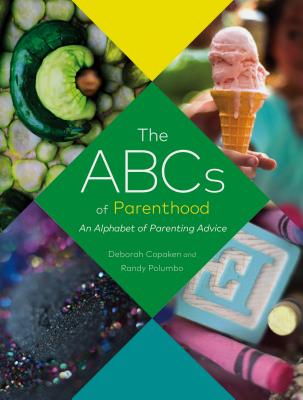 The ABCs of Parenthood (Hardcover)
An Alphabet of Parenting Advice
Chronicle Books, 9781452152905, 64pp.
Publication Date: August 29, 2017
* Individual store prices may vary.
Description
A wise, warm, and witty gift for new (and gently used) parents seeking to raise positive, thoughtful children, this alphabet book brims with the advice only those who've been there can give. From "D is for Dog" (get one) to "P is for Praise" (do it often but appropriately) to "R is for Romance" (keep it alive after the kids come), each mini essay is coupled with a smart, letter-appropriate full-color photograph in these delightfully grown-up ABCs.
About the Author
Deborah Copaken is a New York Times–bestselling author, screenwriter, New York Observer columnist, award-winning and internationally exhibited photographer, and former Emmy Award–winning news producer at ABC and NBC. She lives in Manhattan.

Randy Polumbo is a renowned sculptor, photographer, illustrator, and now writer. His art has been privately collected and publicly exhibited internationally. He lives in Manhattan.
Praise For The ABCs of Parenthood: An Alphabet of Parenting Advice…
"You will come back to The ABCs of Parenthood again and again, whenever you need to remember the big picture or the fact that children are as breathtaking as the images on these pages."
Diane Debrovner, Parents Magazine

The ABCs of Parenthood is a warm, witty, wise and visually delightful book. Absolutely essential reading for anyone who's had a parent, been a parent, wants to be a parent or knows a parent. An utter gem!
Julie Klam, author of You Had Me at Woof

This book will teach you to stop hovering and worrying and start letting go and enjoying the ride. I plan on giving it to every new parent I meet.
Ayelet Waldman, author of Love and Treasure

"You will come back to The ABCs of Parenthood again and again, whenever you need to remember the big picture or the fact that children are as breathtaking as the images on these pages."
Diane Debrovner, Parents Magazine

The ABCs of Parenthood is a warm, witty, wise and visually delightful book. Absolutely essential reading for anyone who's had a parent, been a parent, wants to be a parent or knows a parent. An utter gem!
Julie Klam, author of You Had Me at Woof

Deborah Copaken and Randy Polumbo are the Buddhas of soulful parenting. They've broken it down into easily digestible A-Z concepts which promote kindness, compassion, self-reliance, and love. Plus they're both artists, so the stunning photo illustrations are works of art in and of themselves. This book will teach you to stop hovering and worrying and start letting go and enjoying the ride. I plan on giving it to every new parent I meet.
Ayelet Waldman, author of Love and Treasure