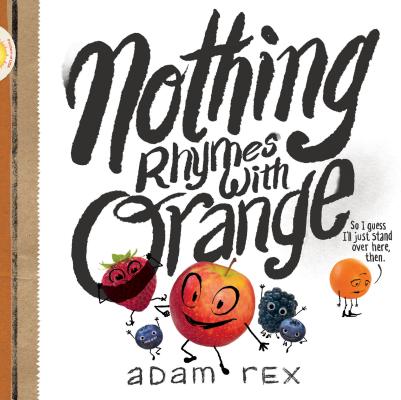 Nothing Rhymes with Orange (Hardcover)
Chronicle Books, 9781452154435, 48pp.
Publication Date: August 1, 2017
* Individual store prices may vary.
Description
A Huffington Post Best Book of the Year

A perfect laugh-out-loud, read-aloud from New York Times bestselling author Adam Rex!

We all know nothing rhymes with orange, but how does that make Orange feel? Well, left out, obviously!

When a fruit parade gets together to sing a song about how wonderful they are—and the song happens to rhyme—Orange can't help but feel like it's impossible to ever fit in. But when one particularly intuitive Apple notices how Orange is feeling, the entire English language begins to become a bit more inclusive.

Beloved author-illustrator Adam Rex has created a hilarious yet poignant parable about feeling left out, celebrating difference, and the irrefutable fact that nothing rhymes with orange.
About the Author
Adam Rex is the author and illustrator of many beloved picture books and novels, including the New York Times bestseller Frankenstein Makes a Sandwich, and has worked with the likes of Jon Scieszka, Mac Barnett, and Jeff Kinney. He lives in Tucson, Arizona.
Praise For Nothing Rhymes with Orange…
"A perfect read-aloud. Fruitful in every sense of the word."-Kirkus Reviews, starred review

Chicago Trubune Best Children's Books of the Year

"You will never, ever, ever find a better, truer, more big-hearted poetic saga about an orange, a lychee, and dancing Friedrich Nietzsche. It begs to be sung aloud. And will make you a better person. Completely beyond good and evil!" -Jon Scieszka, first National Ambassador for Young People's Literature. Smorange.

"Whether read aloud or solo, the bright illustrations, funny rhymes and happy ending make this a thoroughly enjoyable story."--Shelf Awareness

"This sad sack orange is one of the most relatable picture book characters I've had the pleasure of reading about in a long time. And finally a book that teaches kids the correct pronunciation of Friedrich Nietzsche!" --Carson Ellis, author/illustrator of Du Iz Tak

"This book is peachy, fresh and funny! It's worth every cent of your hard-earned money!"- Geisel Award Winner Laurie Keller

"The absurd and the organic come together in a hilarious ode to fruit, fun, and friendship. Adam Rex proves that he is the Bard of Produce." -New York Times bestselling author/illustrator LeUyen Pham

"Silly and a warm story about feelings and friendship, making it a very fun party indeed."--Common Sense Media

"Not since Carmen Miranda took up hat-making, has fruit been this funny and fabulous!" -Caldecott Honor recipient Molly Idle

"Hilarious! Any picture book that can work in Friedrich Nietzsche and lycanthropic pears is a winner to me." -Drew Daywalt, author of The Day the Crayons Quit

"Funny, visually entertaining and - yes, here comes the fruit pun - fresh as can be."--Chicago Tribune

"Fresh and funny, readers will go bananas over Orange's angst and antics in this delightfully appealing new book by Adam Rex." -Kelly DiPucchio, author of Dragon Was Terrible

"Every page makes me laugh save a couple near the end, which I find so touching that I get a little misty." -Mac Barnett, New York Times bestselling author of Extra Yarn and Leo: A Ghost Story

"Cheers for not only nutrition but for thinking outside the bowl to include the unfairly marginalized."-Booklist

"Advisory: Laughter may ensue."--Twenty by Jenny

"A sly concept, deft artwork, and unflagging energy make this a winner."-Publishers Weekly, starred review