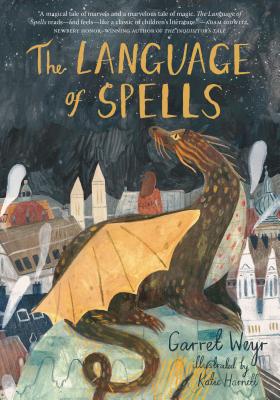 The Language of Spells
(Fantasy Middle Grade Novel, Magic and Wizard Book for Middle School Kids)
Hardcover

* Individual store prices may vary.
Description
Grisha is a dragon in a world that's forgotten how to see him. Maggie is a unusual child who thinks she's perfectly ordinary. They're an unlikely duo—but magic, like friendship, is funny. Sometimes it chooses those who might not look so likely. And magic has chosen Grisha and Maggie to solve the darkest mystery in Vienna. Decades ago, when World War II broke out, someone decided that there were too many dragons for all of them to be free. As they investigate, Grisha and Maggie ask the question everyone's forgotten: Where have the missing dragons gone? And is there a way to save them? At once richly magical and tragically historical, The Language of Spells is a novel full of adventure about remembering old stories, forging new ones, and the transformative power of friendship.
Praise For The Language of Spells: (Fantasy Middle Grade Novel, Magic and Wizard Book for Middle School Kids)…
"The Language of Spells is so many wonderful things, I don't even know where to start." —Books4YourKids

"Reminds readers that there might be magic all around us, even if we cannot see it." -School Library Journal

"Extraordinary-not to be missed." -Kirkus Reviews, starred review

"Offers eccentric charm, sweetness, life lessons, Latin, and more than a bit of heartbreak." —Common Sense Media

"Lovely and lyrical.. extraordinary piece on grace and, finally, love." - Booklist, starred review

"A friendship between a child named Maggie and a dragon named Grisha is at the heart of this transportive, adventure-filled book about magic, connection, and shared history."--Southern Living

"I loved this world, it was wonderfully whimsical and sometimes very sad, and it just blew me away." --Cover2Cover

"If you've never believed in magic, this spellbinding adventure may change your mind." —The Mercury News

"Reading Garret's story was like being with an old friend. Where there are dragons, there is a story; let this lovely tale weave its spell."-Kathi Appelt, author of National Book Award Finalist and Newbery Honor book The Underneath

"What a writer! What a setting! So many gorgeous sentences! I loved it. The enchantment of a tender, empowering friendship builds so softly, so gradually, and with so much force that, before you realize what's happened, you've gone over the edge and there's no turning back. A coming of age tale combined with an ageless fantasy. Wise and sweet, sharp and dear, a poem of a story. " -Karen Romano Young, author of Hundred Percent and Doodlebug

"Young readers will gravitate to Grisha and Maggie, and, sadly, smile at the book's poignant ending." -VOYA

"An extraordinary tale that meshes real historical events with a winning cast of magical creatures... an ideal read-aloud that fantasy lovers of all ages can enjoy." --BookPage

"Sometimes, when I've gotten too bogged down with churning through books and reviews, I get a little disenchanted with reading. I forget the magical feeling that comes with losing myself in a good book. But then I read something like The Language of Spells and I remember all over again." --Reading Till Dawn

"A magical tale of marvels and a marvelous tale of magic. The Language of Spells reads-and feels-like a classic of children's literature." -Adam Gidwitz, Newbery Honor-winning author of The Inquisitor's Tale and A Tale Dark and Grimm

"An affecting, melancholy story that asks intriguing questions about the costs of power." - Publishers Weekly

"A lovely, gentle book with a bittersweet ending" --Kid Lit Geek
Chronicle Books, 9781452159584, 256pp.
Publication Date: June 26, 2018
About the Author
Garret Weyr is the author of 6 novels, some of which have been banned, translated into a multitude of languages, and included in college curricula. She grew up in New York City and now lives in California.

Katie Harnett was the recipient of the Bologna Children's Book Fair Ars in Fabula Grant Award in 2015, and her work has twice been selected to be exhibited in the Illustrators Exhibition at the Bologna Children's Book Fair. She lives in the UK.