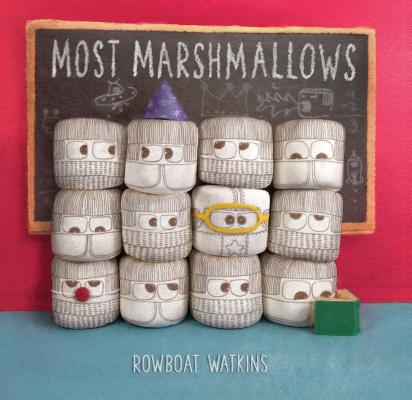 Most Marshmallows (Hardcover)
Chronicle Books, 9781452159591, 40pp.
Publication Date: April 30, 2019
* Individual store prices may vary.
Description
Most marshmallows are born into marshmallow families, play with marshmallow friends, and go to marshmallow school where they learn to be squishy. Most marshmallows read a book before bed and then fall asleep to dream ordinary marshmallow dreams. Is this book about most marshmallows? It isn't. Because Rowboat Watkins knows that just like you, some marshmallows have big dreams, and just like you, these marshmallows can do anything they set their minds to. This sweet and silly book is an inspiring reminder that by being true to ourselves each of us can be truly extraordinary.
About the Author
Rowboat Watkins was a recipient of the 2010 Sendak Fellowship. His book Rude Cakes was an Ezra Jack Keats Honor Book and his most recent title, Big Bunny, was lauded by the New York Times as "homey yet mind-bending." Rowboat lives with his family in Brooklyn, New York.
Praise For Most Marshmallows…
"An affectionate and quirky offering, spot-on for beginning independent readers." - Kirkus Reviews

"Following one's dreams is an idea well worth celebrating, and so is appreciating a world's details. Close-ups of this marshmallow universe. will draw readers back for another look." —Publishers Weekly

"Extraordinary . . . splendid and smile-inducing. This sweet book will delight and offer young readers a charmingly offbeat reflection of their own experiences." - Booklist

"Exquisite . . . is the word that leaps to mind for this new picture book from [Rowboat] Watkins." -The New York Times

"Expressive line drawings on real marshmallows pack beauty, tension, and drama into each page.. This sweet flight of fancy will find a young audience eager to devour it." —Kirkus Reviews