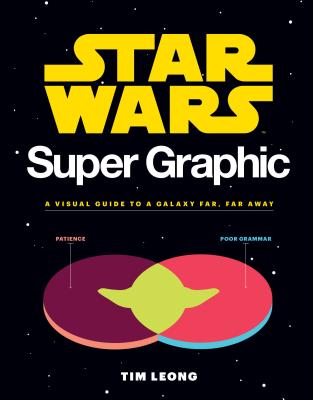 Star Wars Super Graphic (Paperback)
A Visual Guide to a Galaxy Far, Far Away
Chronicle Books, 9781452161204, 176pp.
Publication Date: July 25, 2017
* Individual store prices may vary.
Description
Graphic design guru Tim Leong presents Star Wars trivia in an all-new way—through playful pie charts, bar graphs, and other data-driven infographics. From a Venn diagram of Yoda's idiosyncrasies to an organizational chart of the Empire to a line graph of Grand Moff Tarkin's management decisions, Star Wars Super Graphic shines a new light on the much-adored universe. Equal parts playful and informative, this visual love letter to the vast Star Wars universe will enchant fans of all ages.
About the Author
Tim Leong is the design director at Entertainment Weekly magazine, founder of the Eisner Award–nominated Comic Foundry magazine, and author of Super Graphic. He lives in New York.
Praise For Star Wars Super Graphic: A Visual Guide to a Galaxy Far, Far Away…
"Star Wars Super Graphic: A Visual Guide to a Galaxy Far, Far Away is something completely different and very special...it is a masterpiece of compelling infographics, presenting information that is always entertaining, often puzzling and sometimes useless in an intriguing way...stunning design."
- STC Technical Communication Journal

Holiday Gift Guide Pick "If you obsess over everything Star Wars, like, down to the minutae of things like character height or how many times "the Force" was mentioned in a film, this 176-page book, chock full of graphical data covering everything from the original Star Wars movie to Rogue One, will make you very happy indeed. The book's graphics are very meta, fashioning much of the data in visuals that will be familiar to anyone who enjoys the franchise. An ideal book for a Star Wars-loving data junkie."
-GeekDad

"Tim is just the Jedi Master we needed to gather and present 40 years of Star Wars minutia in such a visually accessible format."
- Leland Y Chee, Manager of the Holocron, from Lucasfilm Story Group

"This geeky coffee-table book is full of fun facts for every would-be Jedi."
-Game Informer magazine

"This book will quickly become your "go to" book for Star Wars information - next time you are debating who mentions "the force" more often, turn to page 40 for quick easy answers!"
-Yodasnews

"There are not enough adjectives to describe the delight this book brings me. Its lists, charts graphs are all wrapped up in the beautiful bow that is graphic art. Tim Leong has produced a nerd trifecta, Star Wars, stats and design"
-PopFam, Pop Culture for Families

"The galaxy far, far away is jam-packed with trivia and information to make the most diehard of Star Wars fans salivate. Ever wondered who's rescued who (and how many times) across the Star Wars saga? Or how many lightsaber colors have been shown across the movies and TV shows? This new infographic book is just for you."
-io9.com

"The Force is with Tim Leong. . . . Nearly every page of Star Wars Super Graphic offers some blend of amusement, charm and stylish artistry." -Washington Post

"Star Wars Super Graphic: A Visual Guide to a Galaxy Far Far Away blew us away with just how brilliant Star Wars in graphic form can be."
Skywalking Through Neverland podcast

"Leong is akin to a Jedi Master when it comes to the impact of a well-designed infographic."
-StarWars.com

"It doesn't matter if you only just joined the legion of Star Wars fans, or if you've been here with us for 40 years. You'll find Star Wars Super Graphic: A Visual Guide to a Galaxy Far, Far Away fascinating, entertaining, educational, and, at times, eye-opening. It will help you look at your favorite Star Wars characters and events in whole new ways. I recommend it to anyone who loves both Star Wars and infographics, which is, I'm guessing, most of you."
-GeekDad

"A spectacularly fun book for any Star Wars fan, graphic designer Tim Leong's lighthearted paperback is packed with infographics, facts, and figures from what each lightsaber color means, to the heights of popular characters, to the Jedi High Council seating chart."
-The Awesomer

Holiday Gift Guide pick "The second volume of incredibly obsessive and brilliantly-conceived infographics by the design director of Entertainment Weekly. With a fan's passion and a smart designer's storytelling skills, Leong has packed this book with graphic representations (i.e., charts and graphics) of Star Wars info. From the Jedi High Council Seating Chart to the definitive ranking of lightsabers to the ultimate Yoda Venn diagram, there is enough in this book to keep fans of all ages enthralled."
-Newmanology