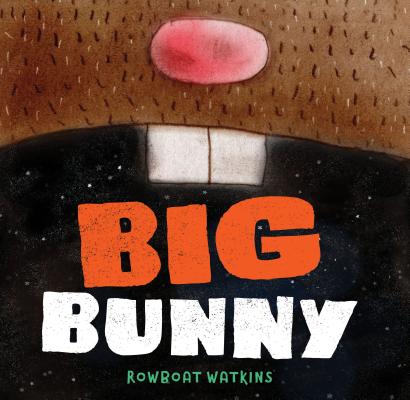 Big Bunny (Hardcover)
(Funny Bedtime Read Aloud Book for Kids, Bunny Book)
Chronicle Books, 9781452163901, 40pp.
Publication Date: March 20, 2018
* Individual store prices may vary.
Description
Once upon a time there was a book about . . .
MONSTERS!
No.
SPACE ALIENS?
Nope . . . a BUNNY!
A GIANT SCARY TRUCK-EATING BUNNY?!?
Um . . . well, maybe it was a tiny bit big.

From the curious mind of Rowboat Watkins comes a ginormously imaginative story that is as funny as it is philosophical. How big is Big Bunny? And how will this story end? Delightfully meta and humorously subversive, Big Bunny will take its place as the next go-to story about stories.
About the Author
Rowboat Watkins is a dad who likes to tell stories and draw. A recipient of the 2010 Sendak Fellowship, he lives in Brooklyn, New York.
Praise For Big Bunny: (Funny Bedtime Read Aloud Book for Kids, Bunny Book)…
"RUN out to get this book - it's totally hilarious."--Imagination Soup

"Watkins's pictures exude the giddiness of an imagination unleashed." -Publishers Weekly, starred review

"Watkins' glee in crafting a near-anarchic tale is infectious, sparking imaginations and appreciation for storytelling in equal measure." -Kirkus Reviews

"Watkins ("Rude Cakes") conjures another homey yet mind-bending story in this bedtime tale about an enormous rabbit, regular-sized carrots, some trucker penguins and bus-driving giraffes. The infectious fun continues to the ending, which will be - trust me - a giant, hilarious surprise to both parents and kids." - The New York Times

"This clever story within a story will perplex and intrigue young readers. 'ginormous' read-aloud appeal." -School Library Journal