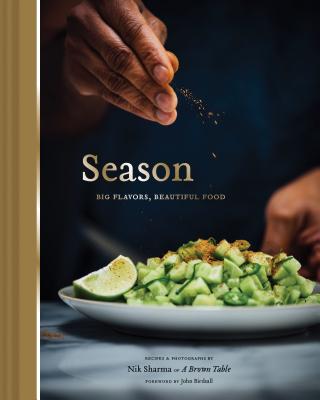 Season
Big Flavors, Beautiful Food (Indian Cookbook, Books about Indian Seasoning, Beautiful Cookbooks)
Hardcover

* Individual store prices may vary.
Description
"Quite simply beautiful food-wide-ranging, inspiring, and infused with an enlivening and generous sensibility."
—Nigella Lawson, author of
At My Table
Includes 100 easy-to-cook and delicious recipes:
Season
by Nik Sharma features delicious and intriguing recipes plus 270 of the most beautiful photographs ever seen in a cookbook. The
bold flavors of Indian cooking combine with familiar ingredients and recipes
of the American South and California in fresh ways. Rest assured there is nothing intimidating here.
Season
, like Nik, welcomes everyone to the table!
The James Beard Nominee 2019 for Best Cookbook Photography.
Stunning photography brings the dishes and overall experience to life in a charming and enticing way.
More than a modern Indian cookbook, it walks readers through the range of healthy ingredients, techniques, and cooking with spices including turmeric, saffron, and za'atar in the warm and clear style familiar to fans of Nik's award-winning food blog, A Brown Table.
This beautiful cookbook will be a go-to for not only exploring the bold flavors and seasoning of Indian cooking, but also to admire the inspiring photographs.
Named Best Cookbook by The New York Times, The Washington Post, The Boston Globe, The Chicago Tribune, Food Network, Bon Appetit, Food52 (Piglet Finalist), Edible Communities, The BBC, The Independent, The Sunday Times, The Telegraph, The National Post, and The New Zealand Listener. Season introduces home cooks to a new way to prepare dishes and think about flavor.
Intriguing and easy recipes include Deviled Eggs with Creamy Tahini and Za'atar, Caprese Salad with Sweet Tamarind Dressing, Steak with Orange Peel and Coriander, Roasted Young Carrots with Sesame, Chili, and Nori, Chat Masala-Grilled Pork Chops, Spicy Chocolate Chip-Hazelnut Cookies, Apple Masala Chai Cake, Pomegranate Moscow Mule, and many more.
Nik Sharma is the writer, photographer, and recipe developer behind the critically acclaimed blog, A Brown Table. His meteoric rise in the food scene has brought him two IACP Digital Media Awards and a Saveur Best Food Blog Award finalist spot.
Praise For Season: Big Flavors, Beautiful Food (Indian Cookbook, Books about Indian Seasoning, Beautiful Cookbooks)…
Named one of the Best Healthy Cookbooks Fall 2018 by MindBodyGreen

A Washington Post Best cookbook of 2018!

"[Nik Sharma brings] together Indian flavors from his hometown of Bombay with those [he] encountered when he moved to the U.S. There's apple masala chai cake, tumeric-and-chile-roasted red snapper with melon salsa, and curry leaf popcorn chicken inspired by his husband's Deep South roots, all illustrated with Sharma's high contrast photos." —Food & Wine

"This book is full of mouthwatering recipes that home cooks will actually make and dozens of Nik's breathtaking, low-light images that sit at the intersection of food photography and fine art. More than providing 100 thoughtful recipes, however, Nik encourages us to connect the dots between our cultural foods, memories, and cur­rent geographic location so we may also cultivate a way of cooking and eating that represent who we truly are." —Bryant Terry, James Beard award-winning author of Afro-Vegan

"This book from an important new voice-and eye-is positively enchanting, page after page. Nik Sharma seasons his food, his photography and his writing with the same ingredients: passion, creativity, and love. You can practically smell the cardamom, the jaggery, the shiso leaves, and you'll be left wanting to cook each and every recipe." —Joe Yonan, food and dining editor, The Washington Post, editor, America The Great Cookbook

"The best cookbooks are those with an unmistak­able voice. 'Mine is the story of a gay immigrant, told through food,' is how Nik Sharma opens Season, and he tells his story so beautifully. I can't think of another cookbook that takes you not only to Bombay and Oakland, but also to science labs in Cincinnati and D.C., and a farm in Virginia. Memorable food is the string that Nik uses to tie all of these seemingly disparate places together and, in doing so, he shares himself. Do yourself a favor and buy two copies: one to tear out pages to frame because his photos are so stunning, the other to read and cook his tempting recipes from."—Julia Turshen, author of Small Victories, Feed the Resistance, and Now & Again

"Nik Sharma's recipes meld the pantry and techniques of India, the American South, and California; they also have the rare quality of always, always working out exactly as promised. He writes about his interest in "the inherent tension between originality and tradition," which is evident in inspired dishes like a riff on caprese salad, dressed in a tart-sweet tamarind vinaigrette and greened up with cilantro leaves instead of basil." — Helen Rosner, The New Yorker

"Mr. Sharma's food is quietly expressive, nodding to the flavors he grew up eating in Mumbai without chaining itself to tradition." —The New York Times

"It's rare to open a cookbook and leaf through it in wonder at the flavor combinations. That's what Nik Sharma's book did to me: it's full of dishes that are crying out to be cooked and photographs that have a gorgeous dark elegance. Nik Sharma is a rare talent." —Diana Henry, James Beard award-winning author of A Bird in the Hand

"I chose Season-for its elegance, it ingenious marrying of compelling, global spices, and, finally, for the semi-calm that pervaded my kitchen as I cooked from it. That hard-to-define-or-describe thing that I love about food has been revealed to me, existing along the lines of strong, persuasive flavors and a feeling of semi-ease that these flavors engender in me. I loved the smell of my kitchen when I cooked from this book, and that made me want to linger at the counter and then, longer, at the table. I happily entered the doorway of Season, and stayed for the story."-Meg Wolitzer, author of The Female Persuasion, The Interestings and The Wife

"Every so often a title shows up that refuses to be cast aside, and Season by Nik Sharma, our very first Cookbook Club pick, is one of them. Flipping through Sharma's recipes for dishes like Chaat-Masala Grilled Pork Chops and Apple Masala Chai Cake will make you want to raid your own spice cabinet for the cumin, coriander, and cardamom (or perhaps go out and stock up on fresh spices, because yes, they go bad!). "—

"A wonderful gateway book to Indian flavors, yet approachable for home cooks. Recommended for all collections."—Library Journal, Starred Review
Chronicle Books, 9781452163994, 288pp.
Publication Date: October 2, 2018
About the Author
Nik Sharma is the writer, photographer, and recipe developer behind the critically acclaimed blog, A Brown Table. His meteoric rise in the food scene has brought him two IACP Digital Media Awards and a Saveur Best Food Blog Award finalist spot. Nik's visual food column for the San Francisco Chronicle, A Brown Kitchen, runs weekly in print and online.