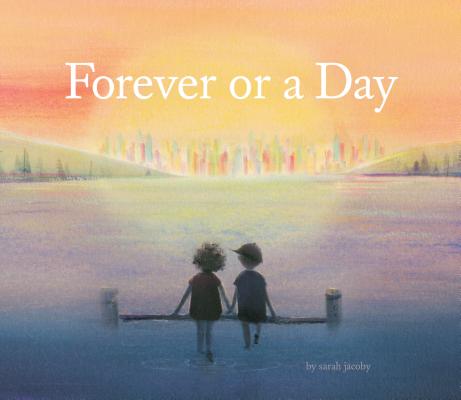 Forever or a Day (Hardcover)
Chronicle Books, 9781452164632, 40pp.
Publication Date: March 27, 2018
* Individual store prices may vary.
Description
Simple, Profound, and Truly Beautiful
Read with your children: Whether you're looking for baby books, children's books, toddler books, preschool books, or just kids' books in general, Forever or a Day is a great read for the whole family. Gather around on the couch or have some one-on-one time with this incredible story.
"This contemplative, almost meditative, book makes for a good one-on-one lap-time read with the children in your life for whom you like to give your own time."-Kirkus Reviews
A timeless beauty: Sarah Jacoby's illustrations have won countless awards. In Forever or a Day, she shares her talents with you and your children, bringing you into a creative world full of artistry and charm.
"This book about time feels timeless. On each page I was transfixed by its enchanting images and poetic prose."-Lane Smith, Caldecott Honor-winning creator of Grandpa Green and It's a Book
An ethereal exploration of time: Forever or a Day is a celebration of cherished moments with loved ones. This gorgous picture book is for any child who's ever asked "can we stay longer?"
"It's time the world discovers the ethereal brilliance of Sarah Jacoby."-Zachariah OHora, illustrator of the New York Times bestseller Wolfie the Bunny
If you liked Where the Wild Things Are by Maurice Sendak or What Do You Do With an Idea by Kobi Yamada and Mae Besom, you'll love Forever or a Day
About the Author
Sarah Jacoby's illustrations have won awards from the Society of Illustrators (Gold Medal), Creative Quarterly, and Communication Arts. This is her first book as both author and illustrator. She lives in Philadelphia, Pennsylvania.
Praise For Forever or a Day…
"A celebration of cherished moments with loved ones is at once simple, profound, and truly beautiful."--Book Riot

Time slips through their fingers in the hours they want to last forever, time pushes them to hurry when they're late, time stretches golden with memories as they gaze pensively into the past, their children having grown without them even realizing it.

"Let's make the most of what time we have, is the theme of this thoughtful book-one that serves as a reminder to try and stay in the moment." —The Missourian

"This is such a beautiful book. Simultaneously captures the vastness of time and space and the intimacy of the present moment with both humor and grace. Read this book with someone you love." -Corinna Luyken, creator of The Book of Mistakes

"This contemplative, almost meditative, book makes for a good one-on-one lap-time read with the children in your life for whom you like to give your own time." --Kirkus Reviews

"This book is a glittering, thoughtful journey into the meaning of what makes time so special." -Julia Denos, creator of Swatch: The Girl Who Loved Color

"This book about time feels timeless. On each page I was transfixed by its enchanting images and poetic prose." -Lane Smith, Caldecott Honor-winning creator of Grandpa Green and It's a Book

"The point of this enchanted debut is that 'we've only got what we've got, and our time with each other is the best time!'" —NPR Best Books of the Year

"The book is quietly magical. I think I held my breath from beginning to end while I waited for your landing. It's a perfect ten. What a lovely way to express foreverness in all of its importance." -Shadra Strickland, illustrator of Loving Vs. Virginia

"Sarah Jacoby's tremendous talents as an illustrator are obvious at a glance. But take some time with her words, and celebrate the arrival of a great new picture book writer." -Mac Barnett, author of the Caldecott-Honor winners Sam & Dave Dig a Hole and Extra Yarn

"It's really two stories: one about time, and another one about love." -Publishers Weekly, starred review

"It's one special book that families will want to read over and over again." --Booking Mama

"Sarah Jacoby's ethereal exploration of time rushes like a passing train, shimmers like a setting sun and allows us, just for a moment, to appreciate the beauty of standing still." - Sophie Blackall, Caldecott Medal-winning and New York Times-bestselling illustrator of Finding Winnie

"Poetic, mysterious, and beautifully illustrated. Unlike anything else." -Carson Ellis, Caldecott Honor-winning creator of Du Iz Tak? and Home

"It's time the world discovers the ethereal brilliance of Sarah Jacoby." -Zachariah OHora, illustrator of the New York Times bestseller Wolfie the Bunny

"It's about being present and spending time together with loved ones and making meaningful moments now." --Good Reads with Ronna

"In Jacoby's elegant debut, time is both a riddle and a poem: "Perhaps it is a ghost/ it can come and go/ and you never even notice it was there," she writes. Her soft illustrations, in lovely sunrise, sunset and moonlight colors, capture both wide-open spaces and the enduring bonds of family love." - The New York Times

"Children will appreciate the evocative words, the engaging artwork, and the feelings that passing time evokes, both happy and sad."-Booklist

"Big questions, simply put and answered. as well as they can be." - Kirkus Reviews

"A stunning book, which reveals more and more beauty with every read." -Brendan Wenzel, Caldecott-Honor winning illustrator of They All Saw a Cat

"A lovely lap book, exceptionally well-suited for intergenerational sharing again and again." -School Library Journal, starred review

"Forever or a Day is a timeless beauty." -Christian Robinson, New York Times best-selling and Caldecott Honor-winning illustrator of Last Stop on Market Street