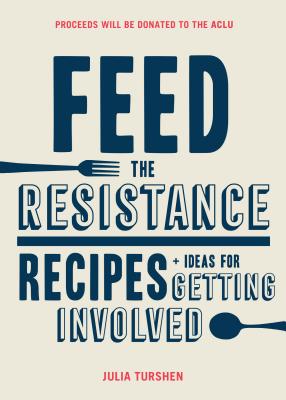 Feed the Resistance
Recipes + Ideas for Getting Involved (Julia Turshen Book, Cookbook for Activists)
Hardcover

* Individual store prices may vary.
Description
From favorite cookbook author Julia Turshen comes this practical and inspiring handbook for political activism—with recipes. As the millions who marched in January 2017 demonstrated, activism is the new normal. When people search for ways to resist injustice and express support for civil rights, environmental protections, and more, they begin by gathering around the table to talk and plan. These dishes foster community and provide sustenance for the mind and soul, including a dozen of the healthy, affordable recipes Turshen is known for, plus over 15 more recipes from a diverse range of celebrated chefs. With stimulating lists, extensive resources, and essays from activists in the worlds of food, politics, and social causes, Feed the Resistance is a must have handbook for anyone hoping to make a difference.
Praise For Feed the Resistance: Recipes + Ideas for Getting Involved (Julia Turshen Book, Cookbook for Activists)…
"As a food writer, you're often told to 'stick to food.' Julia Turshen knows better. She knows that food *is* politics, from the diverse array of people who cook it to those who work so hard grow it. And if you want to get optimistic about it-and hey, why not?-it's the one thing that unites us all."-Adam Rapoport, Editor in Chief,Bon Appétit

"What can you do? Cook for your community and yourself.Simple food-honestly sourced and lovingly made-creates connections, gives fuel to the fight, starves ignorance and apathy. Where to start? With a spoon and a pot and this inspiring, instructive book."-Adam Sachs, Editor in Chief, Saveur

"What an incredible reminder of the power of food to bring people together. This book will inspire you, will make you want to talk, to listen, and to act. It will also make you very hungry."-Abbi Jacobson, Co-creator and Co-star, Broad City

"The best cookbooks are catalogs of ideas."-John T. Edge, Director, Southern Foodways Alliance,and Author, The Potlikker Papers

"Julia Turshen is my 'shero.' In Feed the Resistance, she gives us a manifesto for food activism. From essays by fellow food fighters like Bryant Terry, Caleb Zigas, and Shakirah Simley to a resource list for novices to recipes that can feed small gatherings or multitudes, she blazes a trail for those who want to use food to create change. If that weren't enough, all profits go to the ACLU. Buy this book and begin your own food journey."-Dr. Jessica B. Harris, Culinary Historian and Author, My Soul Looks Back
Chronicle Books, 9781452168388, 143pp.
Publication Date: October 3, 2017
About the Author
Julia Turshen is the bestselling author of Feed the Resistance, named the Best Cookbook of 2017 by Eater, and Small Victories, named one of the Best Cookbooks of 2016 by The New York Times and NPR. She has coauthored numerous cookbooks including It's All Good with Gwyneth Paltrow, and hosted the first two seasons of Radio Cherry Bombe. She has written for The New York Times, The Washington Post, The Wall Street Journal, Vogue, T Magazine, Bon Appétit, Food & Wine, Saveur, and SELF. Epicurious has called her one of the 100 Greatest Home Cooks of All Time. Julia lives in the Hudson Valley with her wife and pets.