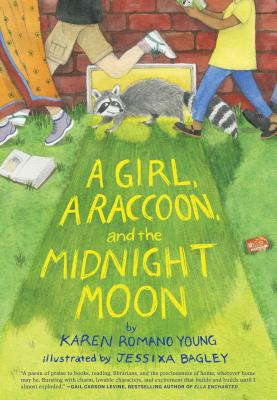 A Girl, a Raccoon, and the Midnight Moon
(Juvenile Fiction, Mystery, Young Reader Detective Story, Light Fantasy for Kids)
Hardcover

* Individual store prices may vary.
Description
A warm-hearted, visually intriguing tale of reading and believing, and a world of possibility.

A New York City library branch has been designated for possible closure yet the bookish, socially awkward Pearl, the daughter of the librarian, can't imagine a world without the library. When the head of their Edna St. Vincent Millay statue goes missing, closure is closer than ever. But Pearl is determined to save the library. And with a ragtag neighborhood library crew—including a constantly tap-dancing girl, an older boy she has a crush on, and a pack of literate raccoons—she just might be able to do it.

• Features an eclectic cast of richly drawn characters, frequent sidebars and footnotes
• Classic illustrations by Jessixa Bagley and writing by beloved author Karen Romano Young

Fans of Henry and Bea, Moon Girl and Devil Dinosaur and Redwood and Ponytail will love this book.

This book is perfect for:
• Avid readers
• Teachers
• Librarians
Praise For A Girl, a Raccoon, and the Midnight Moon: (Juvenile Fiction, Mystery, Young Reader Detective Story, Light Fantasy for Kids)…
"I adore A Girl, a Raccoon, and the Midnight Moon-a tale bursting with charm, lovable characters, and excitement that builds and builds until I almost exploded. . . . It's a paean of praise to books, reading, librarians, and the preciousness of home, wherever home may be. I could go on and on, but read it yourself!" —Gail Carson Levine, bestselling author of Ella Enchanted

"[In A Girl, a Raccoon, and the Midnight Moon] the richly developed cast of characters supports a solid and fast-moving plot with an entertaining narrative reveal. Bagley's illustrations bring Pearl's world to life."—Horn Book Magazine

"A love letter to libraries, A Girl, a Raccoon, and the Midnight Moon comes complete with intriguing sidebars, a clever plot, and a charming surprise narrator. Big-hearted and dazzling, this classic-in-the-making is not to be missed."— Katherine Applegate, Newbery Award-winning author of The One and Only Ivan and Wishtree

"Part mystery, part coming-of-age journey, [A Girl, a Raccoon, and the Midnight Moon] interweaves realistically flawed, fully formed characters with real-world issues (declining library attendance and homelessness) and fantastical elements. Sidebars ("A Sidebar About Legends") penned by a mysterious author and signature illustrations by Bagley offer charming details."—Publishers Weekly

"[A]n enchanting plunge into the underbelly of a failing library and a city brimful of secrets. An array of endearing supporting characters, coupled with a plot both grounded in stressful reality and uplifted by urban fantasy, lend the story its charm. The magic of reading is given a refreshingly real twist."—Kirkus Reviews

"A Girl, a Raccoon, and the Midnight Moon is solidly entertaining. Upper elementary readers who like magical realism will enjoy this novel, as will younger readers at high reading levels. A strong addition to the fiction section."—School Library Journal

"Those willing to suspend their disbelief will be charmed by reading raccoons and the many sidebars that one contributes to the book itself. Issue- rather than plot-driven, this slower-paced mystery is for the thoughtful and bookish."—Booklist

"Hilarious and brilliant, you'll be rooting for Pearl as she fights to keep what she loves most."-Girls' Life Magazine
Chronicle Books, 9781452169521, 392pp.
Publication Date: January 7, 2020
About the Author
Karen Romano Young is a writer, illustrator, and science journalist. She lives in Connecticut with her husband and two large, fluffy dogs.

Jessixa Bagley is an award-winning author and illustrator. She lives in Seattle, Washington, with her husband, adorable son, and a slew of houseplants.