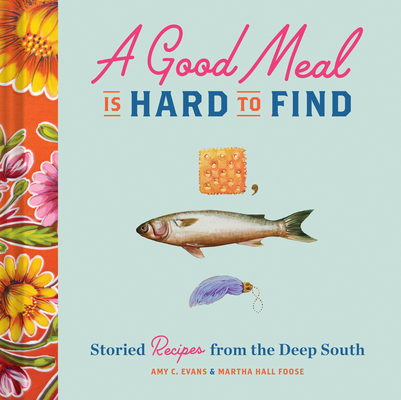 A Good Meal Is Hard to Find
Storied Recipes from the Deep South (Southern Cookbook, Soul Food Cookbook)
Hardcover

* Individual store prices may vary.
Description
A Good Meal Is Hard to Find is more than just a cookbook: it's a love letter to the women and food of the Deep South.

With charming narratives, visual storytelling, and delectable recipes, A Good Meal Is Hard to Find is everything you've ever wanted in a Southern cookbook.

Inside are 60 go-to recipes organized into five chapters—Morning's Glories, Lingering Lunches, Dinner Dates & Late-Night Takes, Afternoon Pick-Me-Ups, and Anytime Sweets. Recipes written by award-winning cookbook author and Southern food expert Martha Hall Foose, as part of a collaboration with Amy C. Evans.

• Each of the 60 recipes opens with a short vignette about a story about a unique Southern character.
• Divided into five chapters from breakfast to dinner, with cocktails and desserts in between
• Recipes paired with gorgeous, vintage-inspired acrylic paintings by Amy C. Evans

Inspired by generations of storytelling and Southern comfort food, this genre-bending cookbook is a must-have for cookbook lovers, vintage collectors, and Southern cooking enthusiasts alike.

Recipes include Francine's Strawberry-Glazed Doughnuts, Camille's Bridge Club Egg Salad, The Suzy B's Spinach and Mushroom Frito Pie, Stella's Harissa Gold Chicken, and Estelle's Butterscotch Pound Cake.

• Master the art of traditional Southern cooking and soul food.
• Perfect for fans of Poole's: Recipes and Stores from a Modern Diner by Ashley Christensen, Magnolia Table by Joanna Gaines, and Heritage by Sean Brock
• A great cookbook gift for readers of Southern Living and Garden & Gun
Chronicle Books, 9781452169781, 160pp.
Publication Date: April 28, 2020
About the Author
Amy C. Evans is an artist and storyteller. She spent more than a decade documenting Southern food
culture through oral history fieldwork, and her paintings continue to be a reflection of her explorations
of the South. Amy makes her home with her daughter in Houston, Texas.

Martha Hall Foose is a cookbook author and storyteller. Her bestselling debut, Screen Doors and Sweet
Tea, won the James Beard Award for American Cooking and the Southern Independent Booksellers
Alliance Book Award. Martha makes her home with her family in the Mississippi Delta.