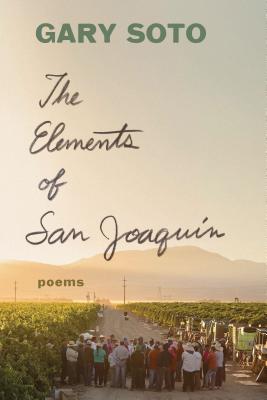 The Elements of San Joaquin (Paperback)
poems
Chronicle Books, 9781452170138
Publication Date: April 3, 2018
* Individual store prices may vary.
Description
A timely new edition of a pioneering work in Latino literature, National Book Award nominee Gary Soto's first collection (originally published in 1977) draws on California's fertile San Joaquin Valley, the people, the place, and the hard agricultural work done there by immigrants. In these poems, joy and anger, violence and hope are placed in both the metaphorical and very real circumstances of the Valley. Rooted in personal experiences—of the poet as a young man, his friends, family, and neighbors—the poems are spare but expansive, with Soto's voice as important as ever. This welcome new edition has been expanded with a crucial selection of complementary poems (some previously unpublished) and a new introduction by the author.
About the Author
Gary Soto is the author of 12 poetry collections, including New and Selected Poems, a National Book Award finalist. His poems have appeared in many literary magazines. He lives in Berkeley, California.
Praise For The Elements of San Joaquin: poems…
"A response to the charged, ideologically defiant voices from the seventies, The Elements of San Joaquin forever changed the course of Latino literature, redirecting us toward the mundane and ephemeral. The poet's only commitment, Gary Soto seemed to suggest, is to life itself. His teacher and role model was Philip Levine, who encouraged him to see his own neighborhood, indeed his own backyard, as a kingdom. The result was a type of poetry that weathered inclement times in ways that scores of other instant 'hits' couldn't. It was new yet as old as the Bible and it still is. The word 'classic' is overused these days. Not in this case."
-Ilan Stavans, Lewis-Sebring Professor in the Humanities, Latin American and Latino Culture at Amherst College, and general editor of The Norton Anthology of Latino Literature

"The poet has an impeccable memory for capturing the music and sounds of his childhood. He carries a heavy sense of nostalgia with such grace, you'll want to return to these poems again and again."
-La Bloga

"In the original The Elements of San Joaquin, Gary Soto defined the Chicano character as an underrepresented part of the American whole, the identity that would serve as foundation for my life's work. My parents and grandparents had crossed borders, but Soto rooted me, us, here-in the daily poverty of mejicano vecindades-on all those rural 'Braly Streets' of Fresno, Brawley, and Salinas. His elements of sun, wind, stars, and field shadowed my own destiny to bring justice there, to the people of the hoe and harvest."
-José Padilla, Executive Director of California Rural Legal Assistance