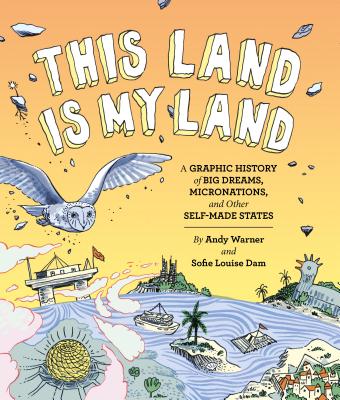 This Land is My Land
A Graphic History of Big Dreams, Micronations, and Other Self-Made States (Graphic Novel, World History Books, Nonfiction Graphic Novels)
Paperback

* Individual store prices may vary.
Description
"A fun, intriguing book that is sure to please a variety of readers." –School Library JournalThe stories of 30 self-made places around the world:
Tired of your country's bad politics? Feeling powerless to change things? Start your own utopia instead! This nonfiction graphic novel collects the stories of 30 self-made places around the world built with a dream of utopia, whether a safe haven, an inspiring structure, or a better-run country. These are the empowering and eccentric visions of creators who struck out against the laws of their homelands, the approval of their peers, and even nature itself to reshape the world around them.
Travel around the globe, from the Gay and Lesbian Kingdom of the Coral Sea Islands to the Indian rock garden of Nek Chand, the micronation of Sealand to the pirate-founded, anti-slavery community of Libertatia.
Organized into 5 chapters: intentional communities, micronations, failed utopias, visionary environments, and strange dreams.
Andy Warner is the New York Times bestselling author of Brief Histories of Everyday Objects.
Fans of Marjane Satrapi's Persepolis and Bryan Caplan's Open Borders will love the graphic novel This Land is My Land. The hope that tomorrow will be better than today is shared universally and depicted through the stories of people who were dissatisfied with the status quo, so they chose to build something better.
Makes a great coffee table book and a starter to interesting, thought-provoking conversations
Extremely fun and informative to read and share
Praise For This Land is My Land: A Graphic History of Big Dreams, Micronations, and Other Self-Made States (Graphic Novel, World History Books, Nonfiction Graphic Novels)…
"Bubbling with madcap energy, This Land slaps the eye with sunshine colors and seduces with doodly lines. The authors seem positively high on the wackiness of the various communities they chronicle - or, more precisely, on the oddball aspects of human nature such places highlight...Warner and Dam have infused these often-absurd stories with joy and a measure of dignity."
-NPR

"What Warner and Dam layout in This Land Is My Land is a rich, amusing, and pretty thorough survey of people who take the idea of carving out a niche for themselves much further than the majority of us ever go. In some cases motivational, in others preventative, it's a good example of what history comics can do..."
-The Beat

"Colorful fauvist drawings and maps from artist Dam (contributor, The Nib) bring these would-be 'better tomorrows' to life with grace and verve. . . . Warner's choices challenge readers in productive and entertaining ways, prompting questions such as: What are the commonalities among the 30? How would you design your own 'self-made state'? How might modern cohousing situations relate to these marginal efforts? . . . Less a complete chronicle and more a tantalizing Rorschach test for speculation and research, this thoughtful collection about visionary living makes fine fodder for adults and teens via book clubs, classrooms, and late-night debates among friends." — Martha Cornog, Library Journal Xpress

"In 2015, a young Czech man read on Wikipedia about a disputed bit of land between Serbia and Croatia that neither country wanted. His decision to claim it and call it Liberland, a home for libertarians the world over, didn't go over well with the Croatian government, which has since arrested him. That is only one of 30 fascinating tales of intentional communities, radical ideas, and utopian visions, all gathered in one place and shared in a funny, enlightening graphic format. Organized by category, each short encapsulation highlights a different community's founders and their visions, the ideals upon which it was based, and how it all fell apart or changed over time. Each story is humorous, sobering, and thought provoking, as the advantages and pitfalls of these kinds of communities are laid bare. The colorful format, with speech bubbles and concise, descriptive paragraphs, will keep students engaged, and there's just enough information to encourage further independent research. VERDICT A fun, intriguing book that is sure to please a variety of readers."
- School Library Journal

Named a 2020 Great Graphic Novels for Teens by The Young Adult Services Association (YALSA).
Chronicle Books, 9781452170183, 160pp.
Publication Date: May 7, 2019
About the Author
Andy Warner is the New York Times bestselling author of Brief Histories of Everyday Objects. He lives in San Francisco.

Sofie Louise Dam is a cartoonist and illustrator based in Viborg, Denmark.
or
Not Currently Available for Direct Purchase