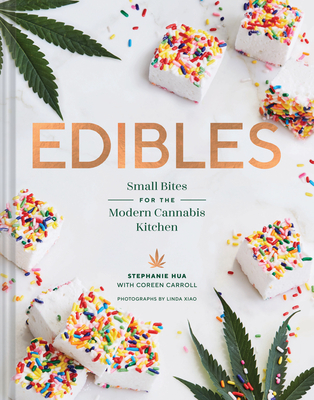 Edibles
Small Bites for the Modern Cannabis Kitchen (Weed-Infused Treats, Cannabis Cookbook, Sweet and Savory Cannabis Recipes)
Hardcover

* Individual store prices may vary.
Description
Bring a new herb into your kitchen with this tasty unique collection of recipes for bite-sized, low-dose sweet and savory cannabis edibles. This cookbook ventures boldly beyond pot brownies with delicious and unique baked confections as well as innovative savory treats. Designed for bakers and cooks of all skill levels, Edibles: Small Bites for the Modern Cannabis Kitchen includes simple recipes like spiced superfood truffles and roasted beet hummus, alongside more advanced recipes like artisanal marshmallows and Gruyére & green garlic gougéres—all brought to life with vibrant photography.

Complete with instructions for creating master ingredients such as canna butters, oils, honey, and maple syrup, as well as information on dosage and portions and the science of cannabis, this cookbook slash baking book gives cannabis newbies and connoisseurs alike the info they need to create an easy, safe, and delicious edibles experience.

• A DIY recipe book for beginner and advanced cannabis bakers
• Contains detailed information on correct dosage and portions
• Provides tips, tricks and tools of the trade

Author Stephanie Hua is the founder and chief confectioner of the popular gourmet edibles line, Mellows, and co-author Coreen Carroll is a winner on the Netflix television series Cooked with Cannabis, executive chef, and cofounder a dining pop-up, Cannaisseur Series, which hosts curated cannabis and culinary experiences, events, and workshops.

Those who like The Easy Cannabis Cookbook: 60+ Medical Marijuana Recipes for Sweet and Savory Edibles, Bong Appétit: Mastering the Art of Cooking with Weed, and Marijuana Edibles: 40 Easy and Delicious Cannabis-Infused Desserts and other cannabis cookbooks will want to add Edibles to their collection.

• Delightful addition to any foodie's book shelf
• Thoughtful gift for anyone who enjoys cooking, baking, and eating edibles
• Cannabis-curious cookbook collectors will appreciate these unique recipes
Praise For Edibles: Small Bites for the Modern Cannabis Kitchen (Weed-Infused Treats, Cannabis Cookbook, Sweet and Savory Cannabis Recipes)…
This edibles cookbook provides some dessert recipes that would be great on their own, but get even tastier thanks to a low dose of pot. The cookbook provides much-needed details about dosage, so you can get zonked without going crazy.
-SPY.com
"Bite-sized is best! Serve up an impressive platter of fried mac and cheese bites, blueberry macarons, or spiced superfood truffles, all found in this book of marijuana-infused small bites."
-BookRiot
"Presenting itself as a collection of recipes that simply happen to include cannabis - that truly sets it apart from its predecessors. If the cannabis cookbooks of the past were concerned with getting you as high as possible, the focus with
Edibles
is to inspire cooks of any skillset to create something that balances elevation with flavor."
-
SF Weekly
"Perfect for rookie cannabis cooks, Edibles is 130+ pages of low-dose sweet and savory snacks that are perfect for sharing. Beyond the classic pot brownie (which is included), there are mac-n-cheese bites, sliders, tea sandwiches, cheesecakes, apple crumble and more. The introduction explains all the vital details-from strains to potency, odors and terpenes, to the benefits of various cannabinoids, to dosage and equipment. Of course, there are plenty of dairy- and gluten-free recipes too."
- Cool Hunting
"...beautifully photographed collection of 30 low-dose cannabis-infused treats. Recipes like strawberry jam pavlovas and blueberry lemon French macarons provide a sophisticated upgrade to the quintessential pot brownie."
-Chowhound
"The collection of 30 recipes in 'Edibles: Small Bites for the Modern Cannabis Kitchen' was designed with the modern, mindful cannabis connoisseur in mind who is looking for a bit of a buzz without getting knocked over the head... They've managed to make the book fun without being too whimsical and accessible without sacrificing sophistication... this one is definitely worth checking out and adding to your collection."
-CannabisNow
Holiday Gift Guide Pick
"...takes its cannabis-focused recipes seriously, even though the end results are tiny, adorable bites that would be amazing even sans weed. "
-MarieClaire.com
"A fresh take and clear guide to cooking with cannabis,
Edibles
is an essential makeover for infused treats. Gone are the stale pot brownies of yesteryear. In their place, Stephanie and Coreen demonstrate how to micro-dose delicious bites and pantry staples." —
Vanessa Lavorato, co-host of Bong Appétit and founder of Marigold Sweets
"If you want to learn about and understand how to cook with cannabis, Stephanie and Coreen will take you on an edible journey of creativity and technique! A must-have addition to your culinary library. Bravo!" —
Mindy Segal, James Beard Award-winning pastry chef, chef/owner of HotChocolate, and creator of Mindy's Artisanal Edibles
"Edibles" is a just-published, user-friendly cookbook in a few notable ways: There is a lengthy and well-defined introductory section that discusses dosage, potency, effects, terminology and techniques. The 30 recipes that follow are purposefully low dose (5 milligrams per serving), which is very helpful for beginning cooks, as well as those with a potentially problematic sweet tooth (Stephanie Hua is a confectioner at a marshmallow company; she and Coreen Carroll met at culinary school in San Francisco). The recipes are also a lot more appealing than those in many cannabis cookbooks, which can tend to run a little toward dorm food. Hua and Carroll instead give well-written recipes for cardamom caramels, gruyère and green garlic gougères, strawberry jam Pavlovas and roasted grape crostini. The blueberry lemon French macarons are a serious improvement on pot brownies."
-
Los Angeles Times
"This collection of bite-sized, low-dose recipes will take bakers at any level to new heights."
-Forbes.com
"Not sure if you are ready for these over-the-top, irresistible cannabis treats? Trust me, for once caving into your indulgences is the way to go."
-POPSUGAR
"The first cookbook from San Francisco cannabis chef Coreen Carroll is loaded with practical sweet and savory recipes that diners can enjoy with or without the botanical buzz."
-
San Francisco Chronicle
Chronicle Books, 9781452170442, 144pp.
Publication Date: November 6, 2018
About the Author
Stephanie Hua is the founder and chief confectioner behind Mellows, gourmet cannabis-infused marshmallows handcrafted in San Francisco. She lives in the Bay Area.

Coreen Carroll is the executive chef and cofounder of the Cannaisseur Series, which has been creating cannabis dining experiences, events, and workshops since 2015. She lives in San Francisco.