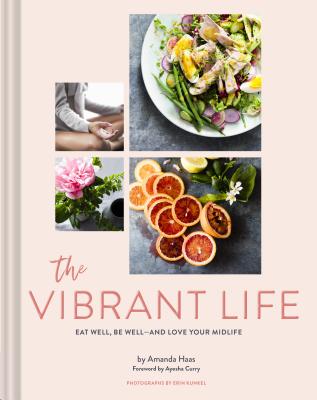 The Vibrant Life
Eat Well, Be Well (Holistic Beauty and Nutrition Cookbook, Recipes for Health and Wellness)
Hardcover

* Individual store prices may vary.
Description
The Vibrant Life: Eat Well, Be Well features advice, resources, and practices that promote wellness, beauty, and longevity, alongside more than 70 delicious recipes.

Each recipe is bookended by lifestyle primers—including information on holistic practices, hormones, and how to eat, all contributed or vetted by experts.

This dynamic cookbook is filled with fresh, approachable recipes to boost immunity, strengthen memory, lift moods, support digestive health, and more.
• Written for women who want to live with grace and good health
• Recipes span all occasions—including drinks
• Complete with gorgeous photographs
• Foreword written by Ayesha Curry

With The Vibrant Life, you're in good hands—author Amanda Haas wrote The Anti-Inflammation Cookbook and has a line of Vibrant Life-branded food products at Whole Foods.

• Great for readers of Good Housekeeping, Real Simple, and Bon Appétit
• A perfect gift for women over 35 and health-conscious eaters, as well as lovers of yoga, hiking, mindfulness, and meditation
• Add it to the shelf with cookbooks like Super Natural Every Day: Well-Loved Recipes from My Natural Foods Kitchen by Heidi Swanson, The Sprouted Kitchen: A Tastier Take on Whole Foods by Sara Forte, and Love Real Food by Kathryne Taylor
Praise For The Vibrant Life: Eat Well, Be Well (Holistic Beauty and Nutrition Cookbook, Recipes for Health and Wellness)…
"I adore this book. It feels like it was written just for me—a busy mom who loves cooking healthy, delicious, and uncomplicated meals for others, but also needs a kick in the pants to take time out for self-care. Amanda's tried-and-true guidance on how to nourish our bodies and souls is a must for a well-lived life."—Michelle Tam, New York Times bestselling cookbook author and creator of Nom Nom Paleo

"Amanda's passion and insight are evident in her beautiful book, The Vibrant Life. Readers will enjoy how she joyfully shares her journey and inspires readers with holistic living, self-care, and beautiful recipes."— Danielle Walker, New York Times bestselling author of the Against all Grain series

"What I love about Amanda's approach to food and wellness is that she has done the homework for us. Through all her research, she holds the firm belief that food-even food that is ridiculously good for us-should taste good! Nothing else matters if it's not delicious."—Ayesha Curry

"Amanda's gorgeous book is a delicious road map for feeling the best we can feel in the body we inhabit. I love her infectious positivity along with her willingness to cut herself some slack from time to time-an important reminder that we can be the best versions of ourselves at any moment in our lives if we just prioritize loving ourselves. Here she shares her journey and the inspirational notion that a delicious meal can set off a chain reaction of goodness. Her story is yet another example of the amazing healing power of food."—Seamus Mullen, award-winning chef, restauranteur, and author of Real Food Heals
Chronicle Books, 9781452170992, 240pp.
Publication Date: August 6, 2019
About the Author
Amanda Haas is a cookbook author and former culinary director of Williams-Sonoma, Inc. She lives in the San Francisco Bay Area.

Erin Kunkel is an award-winning photographer. She lives in San Francisco.

Ayesha Curry is a celebrity cookbook author and television personality. She lives in the San Francisco Bay Area.