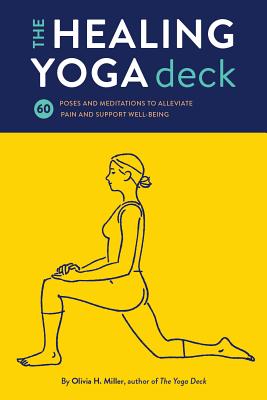 The Healing Yoga Deck (Cards)
60 Poses and Meditations to Alleviate Pain and Support Well-Being (Deck of Cards with Yoga Poses for Healing, Yoga for Health and Wellness, Meditation and Exercises for Pain Relief)
Chronicle Books, 9781452171357, 65pp.
Publication Date: October 2, 2018
* Individual store prices may vary.
Description
The sequel to the bestselling Yoga Deck from Olivia H. Miller.

This handy deck of cards provides detailed instructions for a variety of yoga poses that help alleviate and prevent pain and enhance overall wellbeing. Whether you're a yoga novice interested in pain prevention and relief, or if yoga is a part of your everyday routine, these handy cards can help you take control of your health.

Each card has an illustration of a pose, step-by-step instructions, and options for more or less of a challenge—ensuring that people of different ages and physical abilities can safely use the deck and reap all the benefits. The tri-fold introduction card includes a table of contents, suggestions for using the deck, a brief explanation about the benefits of yoga, and suggested sequences.

• Shows how to perform 60 yoga poses, meditations, and recommended sequences to alleviate pain, prevent chronic conditions, and boost overall well-being
• Contains illustrations for more than 50 new poses
• Each illustrated card includes step-by-step instructions, a list of benefits, and an affirmation

Fans of The Yoga Deck: 50 Poses & Meditations for Body, Mind, & Spirit, The Stretch Deck: 50 Stretches, and The Chakra Deck: 50 Cards for Promoting Spiritual and Physical Health (Relax and Rejuvenate) will love this card deck.

• Idea cards for anyone who wants an alternative way to alleviate pain
• Great gift for yoga enthusiasts of all ages and levels
• Perfect, portable deck for those practicing self-care and wellness rituals
About the Author
OLIVIA H. MILLER is a registered yoga teacher and the author of several wellness and exercise decks. She lives on Cape Cod in Massachusetts.