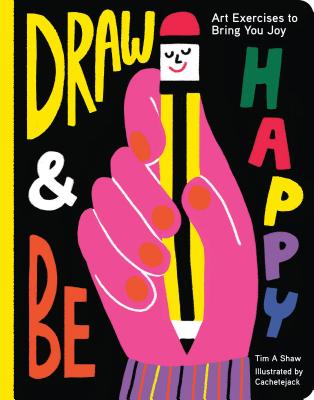 Draw and Be Happy
Art Exercises to Bring You Joy (Gifts for Artists, How to Draw Books, Drawing Prompts and Exercises)
Paperback

* Individual store prices may vary.
Description
Drawing makes you happy! This boldly illustrated handbook offers easy-to-follow drawing exercises—some thought-provoking, some meditative, all fun—inspired by art-therapy practices. Each page features an activity written by artist and activist Tim Shaw and brought to life with colorful art from Spanish illustration duo Cachetejack, offering readers simple strategies for boosting their confidence, reducing stress, and expressing themselves in meaningful and joyful new ways. With a distinctive, modern aesthetic, Draw & Be Happy will resonate with both new and experienced artists looking for fulfillment through creativity.
Praise For Draw and Be Happy: Art Exercises to Bring You Joy (Gifts for Artists, How to Draw Books, Drawing Prompts and Exercises)…
"Bright and bold, Draw and Be Happy is filled with wacky and intriguing prompts designed to uplift, delight, and refresh your perspective on the world. Perfect for any skill level, from the casual doodler to the professional muralist." —HOW Design

"This colorful, upbeat book is as delightful to look through as it is to practice from. Full of bright, bold graphics, Draw and Be Happy offers 75 exercises to explore art as a means of mindful relaxation, creative brainstorming, and just plain fun. From practicing 'calming curves' to drafting a 'visual shopping list,' there are plenty of opportunities for anyone—no matter what their skill level—to grab a pen and paper and explore their creative side." —Mindful magazine

"Drawing is more than making a picture—it's a tonic for the inner you. Create a sense of calm, a boost of energy, a shot of confidence, and more with Draw and Be Happy: Art Exercises to Bring You Joy." —Artists Magazine

"This handbook, inspired by real art-therapy techniques, is designed to help you achieve happiness through drawing. Whether you already consider yourself an artist or haven't picked up a sketchpad since you were a child, there is something for you in these bright and colorful pages." —Scholastic Teacher Magazine
Chronicle Books, 9781452172668, 160pp.
Publication Date: October 9, 2018
About the Author
Tim Shaw lives and works in London. He is a fine artist and cofounder of the nonprofit Hospital Rooms.

Cachetejack are Nuria Bellver and Raquel Fanjul, a Spanish freelance illustration duo based in Berlin.