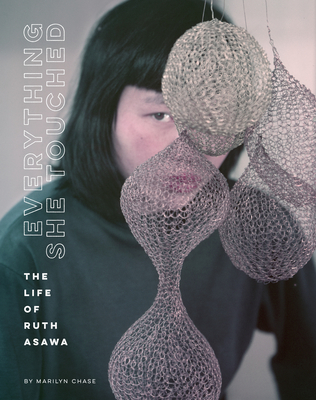 Everything She Touched
The Life of Ruth Asawa
Hardcover

* Individual store prices may vary.
Description
Everything She Touched recounts the incredible life of the American sculptor Ruth Asawa.

This is the story of a woman who wielded imagination and hope in the face of intolerance and who transformed everything she touched into art. In this compelling biography, author Marilyn Chase brings Asawa's story to vivid life. She draws on Asawa's extensive archives and weaves together many voices—family, friends, teachers, and critics—to offer a complex and fascinating portrait of the artist.

Born in California in 1926, Ruth Asawa grew from a farmer's daughter to a celebrated sculptor. She survived adolescence in the World War II Japanese-American internment camps and attended the groundbreaking art school at Black Mountain College. Asawa then went on to develop her signature hanging-wire sculptures, create iconic urban installations, revolutionize arts education in her adopted hometown of San Francisco, fight through lupus, and defy convention to nurture a multiracial family.

• A richly visual volume with over 60 reproductions of Asawa's art and archival photos of her life (including portraits shot by her friend, the celebrated photographer Imogen Cunningham)
• Documents Asawa's transformative touch—most notably by turning wire – the material of the internment camp fences – into sculptures
• Author Marilyn Chase mined Asawa's letters, diaries, sketches, and photos and conducted interviews with those who knew her to tell this inspiring story.

Ruth Asawa forged an unconventional path in everything she did—whether raising a multiracial family of six children, founding a high school dedicated to the arts, or pursuing her own practice independent of the New York art market.

Her beloved fountains are now San Francisco icons, and her signature hanging-wire sculptures grace the MoMA, de Young, Getty, Whitney, and many more museums and galleries across America.

• Ruth Asawa's remarkable life story offers inspiration to artists, art lovers, feminists, mothers, teachers, Asian Americans, history buffs, and anyone who loves a good underdog story.
• A perfect gift for those interested in Asian American culture and history
• Great for those who enjoyed Ninth Street Women: Lee Krasner, Elaine de Kooning, Grace Hartigan, Joan Mitchell, and Helen Frankenthaler: Five Painters and the Movement That Changed Modern Art by Mary Gabriel, Ruth Asawa: Life's Work by Tamara Schenkenberg, and Notes and Methods by Hilma af Klint
Praise For Everything She Touched: The Life of Ruth Asawa…
"Thoroughly researched and engaging, Everything She Touched gives context to the tumultuous times Ruth Asawa lived through and the forces that shaped her artistic vision and her generous unassuming spirit. On so many levels, Marilyn Chase's book made me admire Ruth Asawa even more than I did already." —Delphine Hirasuna, author of The Art of Gaman: Arts and Crafts from the Japanese American Internment Camps, 1942–1946—-

"Undulating in form and almost dreamy in effect, the famous lantern-like sculptures of Ruth Asawa have been recognizable for decades. But Asawa's life is as rich in detail and twisting in path as any one of these designs, as this new biography by Marilyn Chase makes clear." —Architectural Digest online—-

"A fitting homage to this remarkable woman." —The Wall Street Journal—-

"I can't remember being more inspired by an artist's biography." —Austin Kleon, author of Keep Going and Steal Like an Artist—-

"Marilyn Chase fascinates readers with the varied chapters of Ruth Asawa's engrossing life including her adolescence spent in a Japanese internment camp, her work as an art teacher, her role in a multiracial family raising six children, her friendships with artists like photographer Imogen Cunningham, and her reverence for Mexican basket makers, who provided the inspiration for her unique wire sculptures." —Smithsonian—-

"Ruth Asawa's vision shaped the artistic landscapes of public and private spaces, but it is her enduring legacy of life, love, and family that truly inspires. Through the prisms of grief and glory, Chase weaves Asawa's unique history into a compelling and sensitive portrait of a genius whose beauty would not be denied." —Vivienne Schiffer, author of Camp Nine and producer and co-director of Relocation, Arkansas: Aftermath of Incarceration—-

"Tempting as it is to view Asawa's life as an artistic rags-to-riches parable, the story is far more shaded and nuanced. That rich narrative emerges in a scrupulously researched and lucidly written new book Everything She Touched: The Life of Ruth Asawa by Marilyn Chase." —San Francisco Chronicle—-

"Everything She Touched reveals the emotional life and personal trials of a social pathbreaker and civic leader. Author Marilyn Chase connects the barbed wire and dispossession of Asawa's early life to the artist's transformative approach to spooled metal, and intimately conveys the teeming creative life inside her home studio as it filled with six children. The most pronounced through line is Asawa's deliberately interwoven family and art practice." —KQED Arts—-

"Art world recognition for Ruth Asawa keeps climbing higher and, now, Everything She Touched by Marilyn Chase arrives to tell Asawa's amazing life story. Full of documents and fantastic photos—especially those by Imogen Cunningham—we can admire the magic of her sculpture and beauty as a person." —Harry S. Parker III, former director of the Fine Arts Museums of San Francisco—-
Chronicle Books, 9781452174402, 224pp.
Publication Date: April 7, 2020
About the Author
Marilyn Chase is a journalist and teacher, and the author of The Barbary Plague: The Black Death in Victorian San Francisco. She lives in San Francisco.