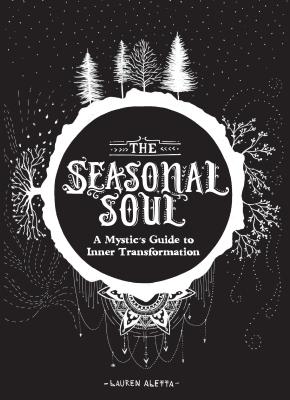 The Seasonal Soul
A Mystic's Guide to Inner Transformation (Guide to Self-Discovery and Personal Growth, Crystal and Chakra Book)
Paperback

* Individual store prices may vary.
Description
Spiritual teacher Lauren Aletta takes readers through metaphorical "seasons" of personal growth and illuminates the ways your springs, summers, autumns, and winters provide opportunities for insight, healing, transformation, and rejuvenation. Brimming with mystical practices and hundreds of evocative illustrations, The Seasonal Soul is an enchanting guide to self-discovery.

• Enriching practices and advice, including self-care rituals, crystal and chakra guides, and journaling exercises
• Eye-catching, shimmery package with black dyed edges

Fans of Everyday Magic, Crystals, and The Wild Unknown Tarot Deck and Guidebook will love this book.

This book is ideal for:
• Modern mystics
• Spiritually curious
• Anyone on a path of self-discovery
Chronicle Books, 9781452174822, 304pp.
Publication Date: May 7, 2019
About the Author
Lauren Aletta is a spiritual teacher and the founder of Inner Hue, an online platform offering video courses, personal coaching, and spiritual readings. She lives in Queensland, Australia.

Tegan Swyny is a designer and illustrator based in Brisbane, Australia.