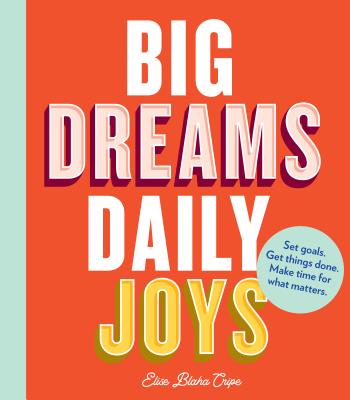 Big Dreams, Daily Joys (Paperback)
Set goals. Get things done. Make time for what matters.
Chronicle Books, 9781452176543, 208pp.
Publication Date: October 8, 2019
* Individual store prices may vary.
Description
For those who feel overwhelmed by endless to do lists and the stresses that come with daily life, here is an empowering guide to establishing healthy productivity habits so that it's easy (and fun!) to accomplish long-term goals. Brimming with simple-to-follow techniques, rituals, and exercises for accomplishing day-to-day tasks and making progress on bigger goals, Big Dreams, Daily Joys offers tips on how-to organize a productive day, overcome the urge to procrastinate, make space for creativity, and achieve a healthy work-life balance. For anyone who is tackling a creative project, running their own business, or simply trying to manage time more efficiently, this is the ultimate handbook to getting things done with clarity, joy, and positivity.
About the Author
Elise Blaha Cripe is a creative entrepreneur, a podcast host, and the founder of Get to Work Book, a goal-setting brand. She lives in San Diego, California.