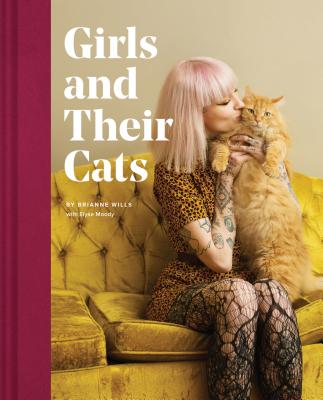 Girls and Their Cats
Hardcover

* Individual store prices may vary.
Description
Girls and Their Cats showcases 50 strong, independent, and artistic women who take the world in stride with their beloved felines.

This stunning book redefines what it means to be a "cat lady" through striking portraits and engaging profiles of each woman and her cat—or cats.

Interspersed throughout are amusing lists any cat lady will find relatable, from "How to Catproof Your Home" to "The Chorus of Cat Sounds," as well as an adoption resource guide and a list of rescue organizations in the United States and Canada.

• Includes heartwarming stories about each woman and her furry friend, as well as fun facts
• Celebrates the powerful bond between a girl and her cat, proving that we need them just as much as they need us
• Based on the popular Instagram @girlsandtheircats, which has been featured on Buzzfeed, Refinery29, The Daily Mail, and more

For the authors—BriAnne Wills, New York City fashion and beauty photographer, and Elyse Moody, senior editor at Martha Stewart Living—the "crazy cat lady" stereotype is a myth.

Girls and Their Cats includes inspirational ladies like Hannah Shaw, founder of the neonatal kitten rescue project Kitten Lady, Christene Barberich, cofounder of Refinery29, and Alyssa Mastromonaco, Crooked Media podcast host and reproductive rights activist.

• Great for cat lovers, feminists, fashion enthusiasts, photography buffs, interior designers, and anyone who loves a good animal-human friendship

• Features a vibrant cover and a gorgeous faux-suede spine, making it a beautiful coffee table book or deluxe gift
• Add it to the shelf with books like Shop Cats of New, The French Cat, Tiny But Mighty, The Lion in Your Living Room, and In the Company of Women: Inspiration and Advice from over 100 Makers, Artists, and Entrepreneurs by Grace Bonney
Praise For Girls and Their Cats…
"BriAnne Wills is releasing a big, beautiful coffee table book version of her work...with velvet binding and full page photographs, the sweet book features 50 women telling the stories of how their kitties came to their lives...The book also highlights some familiar local faces including photographer Holly Andres, macramé expert Emily Katz, and songwriter Alela Diane-all with their cats, of course. "
-Portland Monthly

Holiday Gift Pick " Girls and Their Cats by BriAnne Wills cannot be more fervently recommended. Cat lovers are known for being somewhat obsessive in their devotion, and here is a book filled with like-minded people (and their cats!) telling their 'how we met' stories. It's also a handsome book in its own right, with a velvet spine that's almost as nice to pet as your cat."
-BookPage Magazine

"Wills presents her audience with more than just a charming picture of a woman and her cat (or cats). Each profile features many photos of the two interacting, whether it's cradling the cat like a baby, petting them, or playing with a feather toy (sometimes it's all three). In addition, Wills shares the story of how the woman and cat came to find each other, the feline's personality, and, often, how pet ownership has changed the life of the human for the better. The result is a well-rounded look at the families and what makes the 'crazy cat lady' idea feel totally silly."
-My Modern Met

"Every now and then an idea comes along that, in its elegant simplicity, has true break-the-Internet potential. Case in point: Girls and Their Cats, a popular Instagram account that's now a handsome coffee-table volume."
-AllArts

Holiday gift pick "Photographer BriAnne Wills and cowriter Elyse Moody turn the cat-lady stereotype on its head with an adorable coffee table book of chic women and their beloved felines."
Chronicle Books, 9781452176796, 176pp.
Publication Date: August 20, 2019
About the Author
BriAnne Wills is a New York–based fashion and beauty photographer and the genius behind online blog Girls and Their Cats. Originally from Oregon, she currently lives in Brooklyn with her husband and two cats.
or
Not Currently Available for Direct Purchase