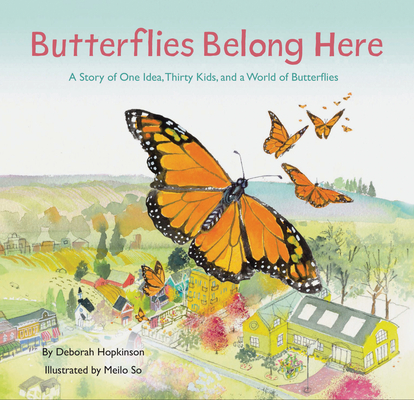 Butterflies Belong Here
A Story of One Idea, Thirty Kids, and a World of Butterflies
Hardcover

* Individual store prices may vary.
Description
Butterflies Belong Here is a powerful story of everyday activism and hope.

In this moving story of community conservation, a girl finds a home in a new place and a way to help other small travelers.

This book is about the real change children can make in conservation and advocacy—in this case, focusing on beautiful monarch butterflies.

• From Deborah Hopkinson and Meilo So, the acclaimed team behind Follow the Moon Home
• An empowering, classroom-ready read
• The protagonist is a girl whose family has recently immigrated to the United States.

I know what to look for: large black-and-orange wings with a border of small white specks, flitting from flower to flower, sipping nectar. But though I looked hard, I couldn't find even one. I wondered if monarch butterflies belonged here. I wondered if I did, too.

Butterflies Belong Here is proof that even the smallest of us are capable of amazing transformations.

• Equal parts educational and heartwarming, this makes a great gift for parents and grandparents, as well as librarians, science teachers, and educators.
• Those interested in beautiful butterflies and everyday activism will find this lovely book both motivating and inspiring.
• Perfect for children ages 5 to 8 years old
• Add it to the shelf with books like Thank You, Earth: A Love Letter to Our Planet by April Pulley Sayre, The Honeybee by Kirsten Hall, and Greta and the Giants: Inspired by Greta Thunberg's Stand to Save the World by Zoë Tucker
Praise For Butterflies Belong Here: A Story of One Idea, Thirty Kids, and a World of Butterflies…
"The premise, of an immigrant girl who relates both to an endangered butterfly's journey to its new home and to a shy caterpillar's shedding of its skin, is smart. After learning English via books about butterflies, our narrator initiates the building of a monarch way station. . . . So's gorgeous illustrations pit boldly defined monarchs against a feathery watercolor world."-The New York Times

"[T]houghtful. . . [C]olorful. . . This beautiful picture book unites fiction with facts while quietly promoting environmental activism."-Booklist, starred review

 "Following an earlier, similarly structured collaboration by this team (Follow the Moon Home) about a child gaining self-assurance while working on an environmental project, Hopkinson and So introduce a brown-skinned girl whose confidence grows as she organizes her class to start a milkweed garden for migrating monarchs. . . . So's delicate mixed-media drawings capture the girl's classmates and portrays the protagonist as she journeys from lonely newcomer to poised leader."-Publishers Weekly

"[T]houghtful. . . colorful. . . detailed. . . This beautiful picture book unites fiction with facts while quietly promoting environmental activism."-Booklist, starred review
Chronicle Books, 9781452176802, 68pp.
Publication Date: August 4, 2020
About the Author
Deborah Hopkinson is the author of many award-winning nonfiction books for young readers, including Titanic: Voices from the Disaster, Apple to Oregon, and Follow the Moon Home. She lives with her family near Portland, Oregon.

Meilo So is the esteemed illustrator of many award-winning books, including Follow the Moon Home, Bronze and Sunflower, Water Sings Blue, and Water Rolls, Water Rises. She was born in Hong Kong and now lives in the Shetland Isles.