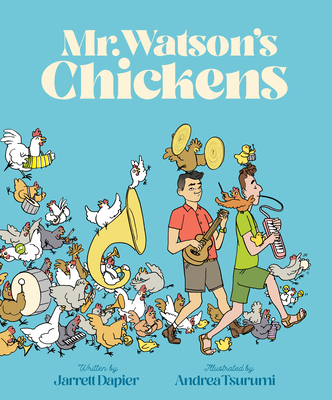 Mr. Watson's Chickens
Hardcover

* Individual store prices may vary.
Description
Interrupting Chicken meets Click, Clack, Moo in this zany classic-in-the-making!

With rollicking rhythms, nonsensical refrains, and too many chickens to count, this modern classic will inspire unstoppable giggles and endless rereads. Bawka-bawka!

Mr. Watson has 456 chickens in the sink, on the bed, in the bread box. When his partner, Mr. Nelson, threatens to leave, Mr. Watson takes his chickens to town to sell only for them to escape! Young readers will follow Mr. Watson all around town as he gathers up his chickens. But, when they're all rounded up, does he have the heart to sell them? Does a different fate await these chickens?

This quirky, irresistible book is full of read-aloud fun with its onomatopoeia, rollicking rhythm, and familiar refrains and ends with a touch of sweetness. It has all the makings of a classic, with a farm theme, hilarious refrains, and a familiar narrative structure that unfolds in threes. Librarians, teachers, and parents looking for a new book that feels traditional will love sharing this book with children.

A JOY TO REREAD: This is a very classic-feeling storybook. Paired with its funny farm setting and hilarious refrains, this book is sure to inspire countless rereads and endless giggles.

PERFECT READ-ALOUD: This book is full of nonsensical sounds and repetition that make it fun to read out loud and invite audience participation. It's a perfect choice for classroom events and laptime reads.

LIKE CHICKA CHICKA BOOM BOOM, WITH CHICKENS!: With its bouncy refrains and rollicking rhythms, this book will remind readers of classic bestsellers like Don't Let the Pigeon Drive the Bus! and Chicka Chicka Boom Boom.

REALISTIC RELATIONSHIP UNUSUAL IN PICTURE BOOKS: This book features a gay couple at its center, but doesn't call specific attention to it. It simply portrays a healthy relationship between two men (and their chickens!).

WRITTEN BY A NEW TALENT WHO REALLY UNDERSTANDS KIDS: This is Jarret Dapier's first book! He's a popular, award-winning teen librarian who works with kids, knows what they like, and is well-versed in the rhythms of the classic children's book—and he has many more stories up his sleeves.

DELIGHTFUL, DETAILED DRAWINGS OF OVER 400 CHICKENS!: With hundreds of chickens to find and scenes crammed with action and detail, the pages of this book are chock-full of things to look at. Young readers will spend hours poring over each spread.

Perfect for: parents, families looking for LGBTQIA+ stories, fans of funny books
Praise For Mr. Watson's Chickens…
"[Mr. Watson's Chickens] is one of the year's most entertaining and bighearted picture books. You might even say it's in fine feather."-BookPage, starred review

"[S]illy [and] fun with nice moments of repetitive and interactive text, but by far the best part about [Mr. Watson's Chickens] is the omnipresence of thoughtful and intentional diverse representation. Mr. Nelson and Mr. Watson are a biracial gay couple with a loving and supportive partnership, and there is a broadly multiethnic supporting cast; but if you squint even further, there is additional detailed layering of diversity in body type, age, mobility, and gender throughout the book, serving as a subtle but constant stream of acceptance and representation."-Booklist Reviews

"Animal lovers and empty nesters will appreciate the delightful antics within this story. Short, accessible text makes this book enjoyable for young readers, especially as a lap read. Comical illustrations, including cross-sections to show the chaos inside the home, depict the many hundreds of chickens playing instruments and causing all manner of ruckus. . . . Readers who are patient enough to examine the illustrations carefully will be rewarded with surprising and humorous moments outside the primary narrative."—School Library Journal

"Animals creating mayhem deliver rousing readalouds, and Dapier (Jazz for Lunch!) and Tsurumi (I'm on It!) here drive this story element to its riotous extreme. . . . Tsurumi['s] meticulous draftsmanship makes the wonderfully frenetic activity both clear and absorbing. . . Subtle background portraits of Tove Jansson as well as Frog and Toad gently hint at the history of queer creators in children's literature, while the carousing chickens draw most of the attention—and all of the laughs."—Publishers Weekly, starred review

"[Mr. Watson's Chickens] is amusing . . . Frequent repeated phrases will assist skilled storytellers in performing the tale effectively . . . Chicken-loving lapsitters will find much to look at."—Kirkus Reviews
Chronicle Books, 9781452177144, 48pp.
Publication Date: October 5, 2021
About the Author
Jarrett Dapier is a teen services librarian at Skokie Public Library just outside of Chicago. He is the recipient of the John Phillip Immroth Memorial Award for Intellectual Freedom from the American Library Association for his research into the censorship of Marjane Satrapi's Persepolis in the Chicago Public Schools. He plays the drums, most notably while dressed as a skeleton at the White House for one of President Obama's Halloween celebrations. He does not own any chickens. Yet. This is his first book.

Andrea Tsurumi is an author, illustrator, and cartoonist originally from New York, who now lives and draws in Philadelphia. The creator of Accident!, Crab Cake: Turning the Tide Together, and numerous comics, she's also illustrated children's books, news articles, and book covers. When she's not inventing croissant-based animals, she likes reading about ordinary and ridiculous history.