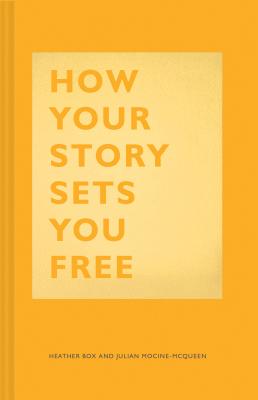 How Your Story Sets You Free (Hardcover)
Chronicle Books, 9781452177519, 112pp.
Publication Date: September 3, 2019
* Individual store prices may vary.
Description
Everyone has a story to tell. Sharing that story can change you, your community, or even the world. But how do you start? This inspirational guide invites readers to unlock their truth and share it, whether in a TED talk, a blog post, or a conversation with their loved ones. Storytelling coaches Heather Box and Julian Mocine-McQueen reveal how to embrace the power of personal storytelling in a series of easy steps. Their practical and motivating advice fills this charming hardcover, which features a textured cover with glittering foil stamping, and colored paper printed with metallic ink on the interior. It's a meaningful gift and a powerful reminder that stories matter.
About the Author
Heather Box and Julian Mocine-McQueen are the founders of the Million Person Project. Since 2011, they have helped over 1,500 changemakers from 67 countries tell their stories. They live in San Francisco.
Praise For How Your Story Sets You Free…
"Human beings understand the world best through stories: not policy papers, not PowerPoint, but stories. And in this book Heather and Julian are ace story-enablers, bringing out the tales that all of us have inside. A must-read!" —Bill McKibben, bestselling author of Falter and Radio Free Vermont

"Working with Heather and Julian changed everything by getting me over the hurdle that stood between what was true about my life and what I was willing to share with the world. I became able to join my life's work with my life's hardest-won lessons. The passionate energy that wakes up inside us when we know we're powered by the full truth is something I wish for every single one of us. I'm so grateful they've distilled their wisdom and vision into this book. Dig into the lessons and exercises inside, do the work, jump over your hurdles, because trust me, we need to hear your story—and so do you!" —Caledonia Curry, artist who goes by Swoon