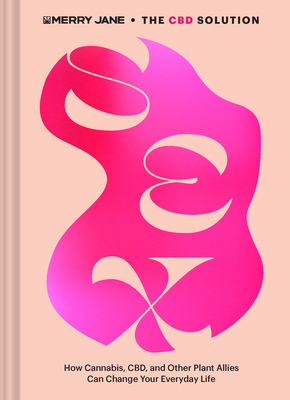 Merry Jane's The CBD Solution
Sex: How Cannabis, CBD, and Other Plant Allies Can Improve Your Everyday Life
Hardcover

* Individual store prices may vary.
Other Editions of This Title:
Hardcover (9/22/2020)
Hardcover (3/30/2021)
Description
This second book in the Merry Jane CBD series speaks to one of the most-asked, most-requested topics: How can CBD improve my sex life?

This is an all-encompassing, no-holds-barred exploration of CBD and sexual wellness.

The dynamic book features go-to recipes such as CBD lube and CBD mocktails, as well as bedroom activities, like using breathwork to enhance your sexual experience.

• Explains how cannabis, CBD, and other plants can increase pleasure and intimacy
• Includes how-tos on everything from dirty talk to erotic massage
• Features neon inks, psychedelic art, bold photography, and infographics



This sex positive book is full of helpful information on sexual health, empowering advice, and tips and tricks on using CBD in the bedroom.

Merry Jane's The CBD Solution: Sex makes a red-hot gift for a partner, and an empowering self-purchase for anyone who wants to cultivate a satisfying sex life



• Written for both solo sex and partnered sex
• Seductive, deluxe package featuring neon inks and bold artwork
• A great gift for those who enjoy using CBD or are curious about learning more, marijuana smokers, and anyone interested in sexual exploration
• Add it to the shelf with books like A Woman's Guide to Cannabis: Using Marijuana to Feel Better, Look Better, Sleep Better–and Get High Like a Lady by Nikki Furrer; Cannabis and CBD for Health and Wellness: An Essential Guide for Using Nature's Medicine to Relieve Stress, Anxiety, Chronic Pain, Inflammation, and More by Aliza Sherman and Dr. Junella Chin; and The Cannabis Spa at Home: How to Make Marijuana-Infused Lotions, Massage Oils, Ointments, Bath Salts, Spa Nosh, and More by Sandra Hinchliffe.
Praise For Merry Jane's The CBD Solution: Sex: How Cannabis, CBD, and Other Plant Allies Can Improve Your Everyday Life…
Come for the sexy CBD info, walk away empowered. Manta goes far beyond the basics in this practical, digestible guide, covering everything from comprehensive sex ed to managing trauma. Rather than instruct you on the "best" or "only" ways to incorporate plant medicine into your sex life, she guides you to make your own informed decisions. I really appreciate the varied perspectives and relevant study findings she wove into this book, as well as the conversational tone and inclusivity. If you've been curious about sex and CBD, this is your manual.
-August McLaughlin, author of Girl Boner and Girl Boner Journal 

Ashley Manta is like the big sister we all needed growing up in a sex-negative culture that didn't want us to be sexual and own our bodies. Her writing is easy to absorb, deeply empathetic, and wise AF. If you've ever experienced shame around sex, pain during sex, or simply want to have better sex, this guide to CBD and sex is right for you. It's the ultimate guidebook to bring you all the pleasure and joy you deserve from your sex life.
-Gigi Engle, award-winning feminist journalist, certified sexologist, and author of All the F*cking Mistakes

A joyful, intimate, and edifying guide, The CBD Solution: Sex is a must-read for anyone curious about incorporating plant allies into their pleasure practice. Ashley Manta writes with compassion, humor, and years of experience, bolstered by contributions from leading sex educators, activists, and medical professionals. This body-positive, queer-inclusive, and consent-focused book harnesses the powers of CBD and cannabis for a revolutionary approach to sex, pleasure, and healing.
-Kristen J. Sollée, author of Witches, Sluts, Feminists

This book is a comprehensive resource for all things cannabis and sex. There is so much we don't know about the benefits of cannabis. This book will help so many in their solo sex and partnered sex lives.
-Erin Tillman, dating empowerment coach, author, speaker, and creator of The Dating Advice Girl 

Ashley Manta is a champion for sexual freedom and access to CBD and cannabis. In The CBD Solution: Sex, Manta shares her compassionate and comprehensive knowledge, providing readers with everything they need to know (while pointing out the BS) about sex and cannabis. It's a must-read for anyone looking to use CBD for sexual health.
-Sophie Saint Thomas, author of Finding Your Higher Self: Your Guide to Cannabis for Self-Care
Chronicle Books, 9781452177915, 208pp.
Publication Date: September 22, 2020
About the Author
Merry Jane is the definitive cannabis resource offering exclusive content on cannabis culture, news, video, food, and style.
or
Not Currently Available for Direct Purchase