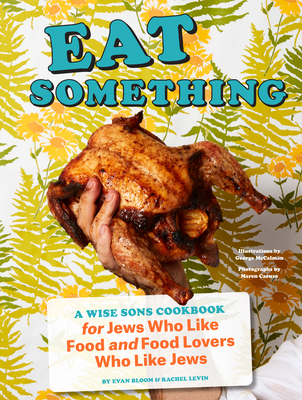 Eat Something
A Wise Sons Cookbook for Jews Who Like Food and Food Lovers Who Like Jews
Hardcover

* Individual store prices may vary.
Description
From nationally recognized Jewish brand Wise Sons, the cookbook Eat Something features over 60 recipes for salads, soups, baked goods, holiday dishes, and more.

This long-awaited cookbook (the first one for Wise Sons!) is packed with homey recipes and relatable humor; it is as much a delicious, lighthearted, and nostalgic cookbook as it is a lively celebration of Jewish culture.

Stemming from the thesis that Jews eat by occasion (and with enthusiasm), the book is organized into 19 different events and celebrations chronicling a Jewish life in food, from bris to shivah, and all the makeshift and meaningful events in between, including: Shabbat, Passover, the high holidays, first meal home from college, J-dating, wedding, and more.

• Both a Jewish humor book and a cookbook
• Recipes are drawn from the menus of their beloved Bay Area restaurants, as well as all the occasions when Jews gather around the table.
• Includes short essays, illustrations, memorabilia, and stylish plated food photography.

Wise Sons is a nationally recognized deli and Jewish food brand with a unique Bay Area ethos—inspired by the past but entirely contemporary, they make traditional Jewish foods California-style with great ingredients.

Recipes include Braided Challah, Big Macher Burger, Wise Sons' Brisket, Carrot Tzimmes, and Morning After Matzoquiles, while essays include Confessions of a First-Time Seder Host, So, You Didn't Marry a Jew, and Iconic Chinese Restaurants, As Chosen by the Chosen People.

• The perfect gift for Wise Sons fans of all ages, lovers of Jewish food and humor, as well as gift-givers young and old looking for Jewish-themed gifts for bar mitzvahs, birthdays, weddings, and more
• Great for those who enjoyed Zahav: A World of Israeli Cooking by Michael Solomonov, The 100 Most Jewish Foods: A Highly Debatable List by Alana Newhouse, and Russ & Daughters: Reflections and Recipes from the House That Herring Built by Mark Russ Federman
• A must for anyone looking to expand their knowledge of Jewish cuisine and culture
Praise For Eat Something: A Wise Sons Cookbook for Jews Who Like Food and Food Lovers Who Like Jews…
"The essence of Levin's colorful personal narratives can be boiled down to one memorable quote: "Every Jewish mother mourns the day her child leaves her dinner table." Rich traditions, plated with a touch of schmaltz, make this a fun and satisfying cookbook." -Publishers Weekly

"This book is an extremely entertaining and haimish guide to Jewish food and the role it plays in our lives." - Josh Russ Tupper, 4th generation co-owner of Russ Daughters

"My Russian-born mother always used to ask, "Is it good for the Jews?" And I have to say that Eat Something not only is good for the Jews but also will make them chuckle and enjoy cooking. This book offers a fresh California perspective and a dash of cultural irreverence." - Joyce Goldstein, chef author

"This book embodies the spirit of Jewish soul food we all need right now. Equally delicious and inspiring, it satisfies like a holiday brisket, with a joy that lasts for days (minus the heartburn)." - David Sax, author of Save the Deli

"Actually funny!"- Eater (named one of the Best New Cookbooks Spring 2020)

"Wonderful... personal and funny" -San Francisco Chronicle

"Something special...What I like so much about this book is its heart, both that it's in the right place, and that it exists to begin with. "-Taste 

"This book isn't too cheffy. It's comfort food. And it's fun." -Eater SF

"A deeply personal dive into the psyche of Jewish American life." -Tablet Magazine

The Best Cookbooks to Get You Through Quarantine -Eater SF  

"Probably the funniest Jewish cookbook ever written... witty yet insightful" - Best 2020 Cookbooks, San Francisco Chronicle

"Imaginative" and "hilarious" - New York Times' Wirecutter 

"...will have the millennial set and their grandparents laughing while they nosh." - Best 2020 Cookbooks, Forbes

"Witty, at times touching. the cookbook version of 'Wet Hot American Summer.'" - Heated 

"This cookbook with a splash of irony offers the culinary secrets of a San Francisco deli, but in the style of 'Bar Mitzvah Disco'" - 25 Cookbooks that Need to be Part of Your Collection, Minnesota's Star Tribune 

2020 Books We Want to Cook From Now - Epicurious 

This book is about "Jews and food," not necessarily Jewish food, you see. Each stage of life, from bris to shiva, is accompanied by recipes, sometimes written as though dictated by a Jewish mother, sometimes delineated by tidy line breaks in a more classic cookbook sense. There are family pictures and jokes-plenty of jokes that you are absolutely only allowed to make if you are Jewish, as the three authors are. It's an insider-y book for someone who's misplaced their family recipe for latkes, or maybe just someone who wants to laugh at the stories and commiserate with the bar mitzvah outfit choices, bagel in hand.-Epicurious
Chronicle Books, 9781452178745, 240pp.
Publication Date: March 3, 2020
About the Author
Evan Bloom is the co-owner of Wise Sons Jewish Delicatessen, and currently serves as the company president. He lives in San Francisco.

Rachel Levin is a San Francisco-based freelance journalist and author.

George McCalman is an artist and a leading creative director in the magazine industry. He lives in San Francisco.