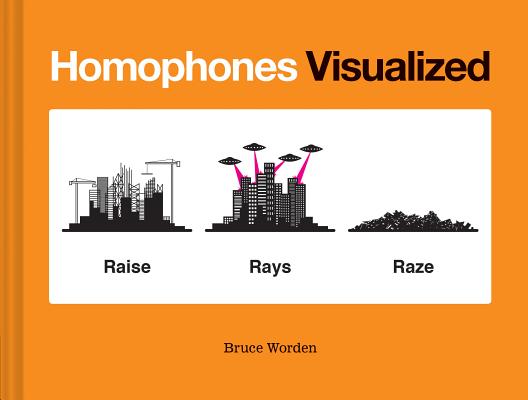 Homophones Visualized
(Book Lover Gift, Nerdy Word and Wordplay Book)
Hardcover

* Individual store prices may vary.
Description
Homophones Visualized is a witty book that illustrates homophones—words that sound alike, but are spelled differently and have completely different meanings.

This book uses clever and minimalist graphics to help illustrate the differences between 100 pairs (or triplets or quadruplets) of words that sound alike.

From beat and beet to flee and flea, baron and barren to golf and gulf, each spread contains a pair or group of homophones and corresponding illustrations that provide context for each word.

• Based on Bruce Worden''s popular blog Homophones, Weakly
• Illustrations are simple, smart, and humorous
• Worden''s work has been featured by BoingBoing, Bored Panda, and My Modern Met

Do ewe no what homophones are? It''s knot always easy to get it right.

Word lovers, educators, and kids all will delight in this witty and useful homophone guide to understanding which word is witch.

• A great gift for English and ESL teachers, kids, language and grammar lovers, word nerds, and fans of puns and wordplay
• Perfect as a coffee table book to dip in and out of
• Add it to the shelf with books like Lost in Translation: An Illustrated Compendium of Untranslatable Words from Around the World by Ella Frances Sanders, Schottenfreude: German Words for the Human Condition by Ben Schott, and I Never Metaphor I Didn''t Like by Dr. Mardy Grothe
Praise For Homophones Visualized: (Book Lover Gift, Nerdy Word and Wordplay Book)…
"My daughters and I read through the entire book together in one sitting, enjoying the clever wordplay. I particularly liked it when Worden was able to make similar-looking illustrations for a pair of homophones, with just subtle changes to reflect the differences in meanings. Whether you enjoy wordplay and puns, or if you just have a hard time remembering the difference between 'affect' and 'effect,' this book is for you!"
-Geek Dad
Chronicle Books, 9781452180038, 208pp.
Publication Date: August 13, 2019
About the Author
Bruce Worden is an award-winning author and illustrator, and the creator of the weekly picto-blog Homophones, Weakly. He lives in Ann Arbor, Michigan.