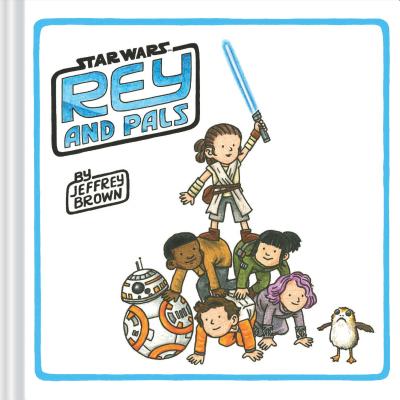 Rey and Pals
(Darth Vader and Son Series, Funny Star Wars Book for Kids and Adults) (Star Wars x Chronicle Books)
Hardcover

* Individual store prices may vary.
Description
From Jeffrey Brown, the creator of the New York Times bestselling Darth Vader and Son series.

What if Rey hadn't grown up all alone on dusty planet Jakku, but instead had a galaxy of friends to play with?

Rey and Pals is a collection of adventures starring young Rey and Kylo, Finn and Poe, Hux and Phasma, Rose and BB-8—all under the watch of Luke, General Leia, Han, and Chewie.

• Features an exciting cast of characters (as well as some old friends) from the new Star Wars® film trilogy
• Filled with silly antics like Kylo trying to use the Force to cheat at Go Fish, Poe bowling with BB-8, or Rey lifting rocks to play hide and seek
• Includes fan favorites like R2, Yoda, and 3-PO

Jeffrey Brown's charmingly hilarious vision is sure to delight Star Wars® fans of all ages.

Rey and Pals joins the collection of perennial favorites like Goodnight Darth Vader, Darth Vader and Son, Vader's Little Princess, and Darth Vader and Friends.

• A perfect gift for Star Wars® fans and those who love all things Jeffrey Brown
• Enjoyed by all ages, kids and parents alike
• Add it to the shelf with books like Star Wars: The Visual Encyclopedia by Adam Bray, Cole Horton, and Tricia Barr, Star Wars: Be More Yoda by Christian Blauvelt, and How to Speak Wookiee: A Manual for Intergalactic Communication by Wu Kee Smith

© & TM LUCASFILM LTD. Used Under Authorization.
Praise For Rey and Pals: (Darth Vader and Son Series, Funny Star Wars Book for Kids and Adults) (Star Wars x Chronicle Books)…
"Honestly the most adorable little book cover I've seen in ages...Rey and Pals follows along as Rey and her friends-Rose, Finn, Poe, BB-8, the porgs, and yes, even an angry little boy named Ben, and a few of his villainous mates from the First Order-deal with the biggest threats the kids of Star Wars can face. "
- io9.com

"It's a big galaxy, one that's brighter for the presence of these magical books that kids of all ages can enjoy."
-Fantha Tracks

"Every page is filled with gags that will make even the most hardcore Star Wars nerds (count this author among them) chuckle with an appreciation for the most obscure hidden references."
- The Beat

Holiday Gift Pick "If the kids are too young to watch "Star Wars," Chicago-based cartoonist Jeffrey Brown's series has you covered. Since 2012, with "Darth Vader and Son," Brown has been imagining silly scenarios that would play out if Vader had faced the challenges of parenting Luke and Leia"
-Chicago Tribune

"Give to someone that you know is a huge fan of the newer Star Wars movies, but that can have a sense of humor about some other goofy Star Wars references. Yes, there's even a Jar-Jar joke in the book."
-ICv2

"it's a fun collection of comics filled with references to the films, often recreating familiar scenes that take on new meaning when the characters are younglings. If you're a Star Wars fan and you haven't seen these books before, you're missing something brilliant!"
-Geek Dad

Holiday Gift Pick "This adorable kids book from Jeffrey Brown, author of Darth Vader and Son and Vader's Little Princess is the perfect gift for the young Star Wars fans on your list. Rey and Pals follows Rey and her friends from both the newest trilogy and oldest as they explore and have fun. Not to mention nothing is more adorable than Kylo trying to use the force to win at a game of go fish."
Chronicle Books, 9781452180434, 64pp.
Publication Date: August 20, 2019
About the Author
Jeffrey Brown is the Eisner Award-winning artist and author of the Darth Vader™ and Son series. A lifelong Star Wars fan, he lives in Chicago.