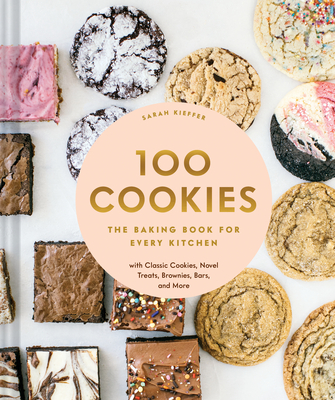 100 Cookies
The Baking Book for Every Kitchen, with Classic Cookies, Novel Treats, Brownies, Bars, and More
Hardcover

* Individual store prices may vary.
Other Editions of This Title:
Hardcover (12/5/2020)
Paperback (12/5/2020)
Description
Featured in Food & Wine, The Kitchn, Cup of Jo, Wall Street Journal, Wine Enthusiast, Food52, Bake from Scratch Magazine. Nominated for a 2020 Goodreads Choice Award for Best Cookbooks

From celebrated blogger Sarah Kieffer of The Vanilla Bean Baking Blog!

100 Cookies is a go-to baking book featuring 100 recipes for cookies and bars, organized into seven chapters.

Chocolatey, fruity, crispy, chewy, classic, inventive—there's a foolproof recipe for the perfect treat for everyone in this cookie recipe book.

• Introduces innovative baking techniques
• Includes an entire chapter dedicated to Kieffer's "pan banging" technique that ensures crisp edges and soft centers for the most delicious cookies
• Nearly every cookie dough recipe is accompanied by a photograph.

Dessert recipes range from the Classic Chocolate Chip made three different ways, to bars, brownies, and blondies that reflect a wide range of flavors and global inspiration.

This is the comprehensive-yet-charming cookbook every cookie lover (or those who love to bake cookies) needs.

• Highly giftable with a textured case and a ribbon marker
• Recipes include Marshmallow Peanut Butter Brownies, Olive Oil Sugar Cookies with Blood Orange Glaze, Red Wine Cherry Cheesecake Swirl Bars, and Pan-Banging Ginger Molasses, S'mores Cookies, Snickerdoodles, and more
• A great pick for the home baker in search of a new bake sale recipe or someone who just loves cookies, as well as fans of Sarah Kieffer's blog and Instagram
• Add it to the shelf with cookbooks like Sally's Cookie Addiction by Sally McKenney; Dorie's Cookies by Dorie Greenspan; and The Perfect Cookie: Your Ultimate Guide to Foolproof Cookies, Brownies & Bars by America's Test Kitchen
Praise For 100 Cookies: The Baking Book for Every Kitchen, with Classic Cookies, Novel Treats, Brownies, Bars, and More…
"This is a cookie gold mine! I've been waiting years for all of Sarah's cookie wisdom to transfer from her brain to my kitchen, and here it is! Sarah's recipes are reliable, approachable, and just plain crave-able. This world has reached peak cookie deliciousness thanks to Sarah."
-Molly Yeh, blogger, author of Molly on the Range, and star of Girl Meets Farm

"Sarah Kieffer has the innate ability to create recipes that capture a sense of culinary nostalgia-both real and imagined-and are remarkably better than any memory could be. She takes every whim and amplifies its magic, creating sweets that never disappoint. She is one of the talents I rely upon when I need the platonic ideal of a recipe. This book is a treasure trove of sure-to-be favorites."-Tara O'Brady, food writer and author of Seven Spoons

"It is absolutely safe to declare Sarah Kieffer the Queen of Cookies, and once you bake from this over-the-top collection of cookie perfection, you will see why the crown is hers to wear! My favorite chapter has to be Pan-Banging Cookies, because why stop with chocolate chip? Now there is a flavor for any time the mood strikes to bang that pan. This is a 'buy at least two copies' kind of book-keep one, give one. The world needs this!" -Brian Hart Hoffman, editor-in-chief, Bake from Scratch 

"Sarah's pan-banging cookies are the gold standard of chocolate chip cookies. Yet she's managed to set the bar even higher with her new book, 100 Cookies. Sarah bakes with all the passion and soul of a poet, so it is no wonder her recipes have captured the hearts of bakers all over the world. Her gorgeous photography makes it impossible to flip through the book without wanting to bake every single recipe. I am starting with the Marshmallow Peanut Butter Brownies because they are the most glorious pan of brownies I have ever seen. Well, until I turned the page to yet another beautiful creation. Sarah is nothing short of a cookie goddess! You need this book and a large glass of milk."-Zoë François, pastry chef and coauthor of the bestselling Artisan Bread in Five Minutes a Day series

"Sarah Kieffer is living her dream. She turned a childhood obsession for baking into the most joyful cookie book ever. I love her writing, her recipes, and the way she guides you through every step. Start with her Chocolate Chip Cookies, which are famous for a reason!" - Ina Garten, Barefoot Contessa cookbooks and television

"Sarah is one of my most trusted baking resources, and I was thrilled to see that she poured her infinite cookie wisdom into this spectacular book. It is full of fool-proof recipes to fit every possible cookie craving and cookie cravings I didn't even know I had. I cannot wait to bake my way through the whole thing, starting with the Peanut Butter Crunch Brownies!" - Yossi Arefi, baker and author of Sweeter off the Vine
Chronicle Books, 9781452180731, 304pp.
Publication Date: August 25, 2020
About the Author
Sarah Kieffer is the self-taught baker, photographer, and blogger behind The Vanilla Bean Blog. She lives in Minnesota.