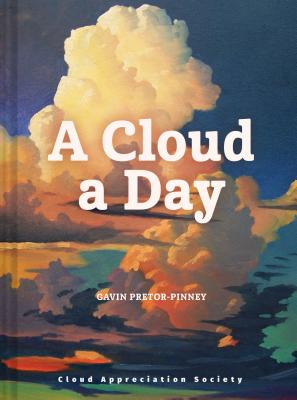 A Cloud a Day
(Cloud Appreciation Society book, Uplifting Positive Gift, Cloud Art book, Daydreamers book)
Hardcover

* Individual store prices may vary.
Description
Cloudspotter and bestselling author Gavin Pretor-Pinney delivers a moment of calm atmospheric contemplation to members of his Cloud Appreciation Society by sharing a cloud image and story every day. A Cloud a Day urges all of us to keep our heads in the clouds with 365 fascinating cloud formations from his extraordinarily popular Cloud Appreciation Society collection. Inspirational quotes and informative cloud facts accompany provocative and meditative images of the sky, encouraging readers to pause for a moment and look up.

• Beautifully illustrated book of stunning cloud images
• Features cloud facts and inspirational quotes
• Encourages appreciation of the natural world

Fans of In The Cloudspotter's Guide or The Cloud Collector's Handbook will love this book.

This book is perfect for:
• Weather and cloud watchers
• Daydreamers
• Cloud Appreciation Society members and anyone interested in clouds
• Introduction to weather book for kids
Praise For A Cloud a Day: (Cloud Appreciation Society book, Uplifting Positive Gift, Cloud Art book, Daydreamers book)…
Holiday Gift Pick "Thought-provoking quotations and explanations of lesser-known cloud formations accompany the photos. He even includes clouds from unexpected places like distant planets and famous paintings. Fun charts aid readers in navigating the book by helping them locate certain cloud formations, artworks, optical effects and imaginative descriptions. In his introduction, Pretor-Pinney explains that we live upon an ocean of gasses, and that it would improve the quality of our lives to spend a bit of time noticing that ever-changing ocean around us. After perusing this enlightening book, many readers will agree."
-BookPage Magazine

"This meditative book gives you a daily dose of quotes, facts, and of course, clouds. Perfect for someone who you'd like to encourage to look up, or whose head is in the clouds most of the time anyway."
-Read Now Sleep Later

Holiday Gift Pick " If you, too, find that your head is frequently in the clouds - and what better place for it, at least once in a while? - here is your tribe: the Cloud Appreciation Society. The group's founder, Gavin Pretor-Pinney...presents us with A CLOUD A DAY, a surprising year's worth of everything from Cirrus fibratus to Cumulo-stratus...Take a few moments every now and then, Pretor-Pinney advises, to contemplate the clouds; it's good for your health. His charming little volume reminds us that self-care is as available as a glance out the window, no matter your age or infirmities."
-The New York Times

"Clouds from around the world, in all seasons and times of day, at high and low altitudes, by photographers professional and amateur who share a love of cloud types and formations, from the dramatic to the mundane (mostly dramatic). Author Pretor-Pinney-founder of the online group The Cloud Appreciation Society-includes brief paragraphs with each picture, explaining what we're looking at, and when and how it is formed. If you're not interested in the science, the book will endear itself to you for the photographs, paintings, and prints it contains." - The Backroom
Chronicle Books, 9781452180960, 368pp.
Publication Date: November 5, 2019
About the Author
Gavin Pretor-Pinney is the author of The Cloud Collector's Handbook and The Cloudspotter's Guide, as well as the proprietor of the Cloud Appreciation Society, an online community for cloudspotters.