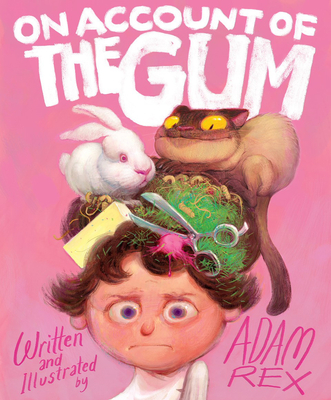 On Account of the Gum
Hardcover

* Individual store prices may vary.
Description
On Account of the Gum is a book about how the best intentions lead to some of the worst (and funniest) ideas!

Serious humor abounds in this story about one kid's hilarious misadventures with gum, and the cumulative buildup of stuff stuck in hair.

From the madcap mind of Adam Rex comes a book about the improbable, downright bizarre remedies for a problem kids have faced since the creation of gum.

• Features hilarious text with unexpected turns and fun rhymes
• Wacky suggestions make this prime for constant giggles and repeat reading
• Author Adam Rex has a funny, smart, and relatable style

How do you get gum out of your hair—a pair of scissors? Butter? The cat? Call your aunt, she'll know what to do. She doesn't? Try the fire department!

With each page turn, this situation—relatable to any family—grows stickier and more desperate.

• A wonderful blend of light wordplay, zany humor, and a timeless topic
• Perfect for fans of The Day the Crayons Quit and If You Ever Want to Bring an Alligator to School, Don't!
• Great gift for parents, grandparents, teachers, librarians, booksellers, and educators who are looking for a funny, relatable tale to read out loud
• Add it the the shelf with books like We Don't Eat Our Classmates by Ryan T. Higgins, The Legend of Rock Paper Scissors by Drew Daywalt, and The Bad Seed by Jory John.
Praise For On Account of the Gum…
"In his first work of nonfiction, Adam Rex bravely shares his harrowing experience of gum-chewing gone horribly wrong. What? On Account of the Gum is not a true story? Oh. Well, then it's just plain hilarious and any human will love it!" -Laurie Keller, Geisel Award winning author-illustrator of We Are Growing

"Adam Rex is one of the best writers making picture books today, and one of the best illustrators making picture books today, and On Account of the Gum just might be his best picture book yet. It's perfect. You should read it." -Mac Barnett, New York Times-bestselling author of the Caldecott Honor books Sam and Dave Dig a Hole and Extra Yarn

"A story of a sticky situation bursting with laughs, On Account of the Gum is a hilarious book from Adam Rex. The deadpan narrative voice in this book and the building chaos with each attempt to remove gum from the main character's hair will keep kids chuckling and asking for more. It is reminiscent of the old nursery rhyme, There Was an Old Lady Who Swallowed a Fly, except no one gets eaten . . . and it's about gum . . . and the only old lady in it winds up stuck in the main character's hair. So maybe it isn't much like the old nursery rhyme at all. Don't chew it over. Just buy the book." -Ryan T. Higgins, bestselling author/illustrator of the Mother Bruce books and We Don't Eat Our Classmates

"Conversational rhyme, cascading action, and dramatic page turns create a story of early-morning, get-ready-for-school chaos. Gum-wrapper endpaper illustrations collaged under a bubble gum-pink wash set the tone for escalating silliness . . . [On Account of the Gum is a] gloriously giggly tale glued together by a glob of very gooey gum."-Kirkus Reviews, starred review

"[A]lready giggling audience[s will] burst into belly laughs."-The Bulletin of the Center for Children's Books

"Snappy second-person verse enumerates a family's vain efforts to remove a blob of shocking pink bubblegum as Rex (Unstoppable) dreams up ever-grosser remedies for the hairy dilemma."-Publisher's Weekly 

"Rex's work is always humorous, smart, and delightfully absurd, and this is no exception. The hand-painted text has beautiful artistry to it, but it's also a tongue-tangling, deliciously metered, rhyming absurdist story that begs to be read aloud in classrooms, libraries, and homes. . . . [B]rilliantly detailed. . . . the child's expressions are masterpieces in and of themselves. . . . Rex is king of the picture books. Consider this required reading."-Booklist, starred review

"In Adam Rex's divine picture-book comedy of errors . . . Rex (School's First Day of School; Nothing Rhymes with Orange; Unstoppable), a master of meshuggaas, hastens along the humor with caricaturish illustrations in a fruity palette perfectly suited to the asimmer-with-irritation kid's hair wear, which comes to resemble a Carmen Miranda hat gone berserk. But underneath the silliness, On Account of the Gum harbors a substantive, empowering message. To borrow the book's idiom: There's a point to all of this rat-a-tat rhyme/ It turns out the kid had the cure the whole time."-Shelf Awareness
Chronicle Books, 9781452181547, 56pp.
Publication Date: October 6, 2020
About the Author
Adam Rex is the author and illustrator of many beloved picture books and novels, including Nothing Rhymes with Orange, Why?, Unstoppable!, The True Meaning of Smekday (which was made into the major motion picture Home), and the New York Times bestseller Frankenstein Makes a Sandwich. He lives in Tucson, Arizona.