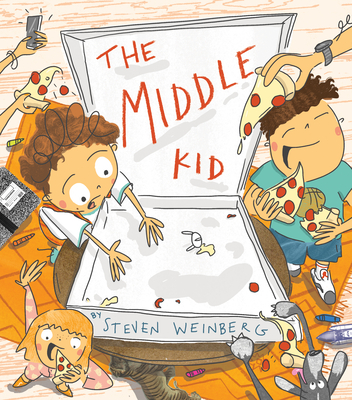 The Middle Kid
Hardcover

* Individual store prices may vary.
Description
A story about the wonderfully challenging realities of being a family's middle kid.

Readers experience a day in the life of a middle kid, and all the highs and lows of a life in-between. When you're the middle kid, you're never the first nor the last to do anything. You're not the tallest or the smallest; you're babysitting one sibling but teased by the other. Stuck between a bossy older brother and a naive younger sister, Middle Kid feels left out of two worlds. But even if—and maybe especially because—it's always overlooked, this kid's own world is just as big and important as his siblings'.

• From author-illustrator Steven Weinberg—a middle kid himself!
• Gently funny and richly detailed
• Starting in the morning and ending at night, readers experience a full day in Middle Kid's shoes

Middle children have classically been sandwiched between the achievements of the older sibling and the needs of the younger one—The Middle Kid gives them a time to shine!

• Perfect for beginning readers
• A great empathy read
• Fans of comical books about family
Praise For The Middle Kid…
"Weinberg's illustrations—'watercolor, pencil, art from a few centuries ago, digital media, and a whole lot more'—feature a happy, if harried, middle sib whose own exuberance and artistry come through in the present-tense, direct-address main text and on busy spreads with lots of kid-friendly details and easy-to-read speech bubbles. Although being "right in the middle" isn't always a walk in the park, 'sometimes [it] is the best place to be,' concludes our narrator, whose place in this boisterous, mischief-prone, and tight-knit family is comfortably assured."—The Horn Book Magazine

"[E]ngaging. . . With loose full-color mixed-media illustrations on every page, Weinberg (the AstroNuts series) employs a lively mix of design elements, such as comics-style speech bubbles and collaged details, including his own paintings and 'art from a few centuries ago.' Full of realistic sibling interactions, this is a spirited and relatable celebration of the delights-and recognition of the challenges-of being the middle kid."-Publishers Weekly, starred review

"Weinberg imposes visual order on mixed-media scenes of the day's chaos, but not at the loss of a scribbly charm that, along with an opening dedication and bits of childhood writing, confirms that he knows whereof he speaks and that he, too, once wanted to be left alone to dream and draw from time to time. Listeners with siblings of their own might pause to consider birth order dynamics at home, and onlies can ponder how much they miss what they're missing."-The Bulletin of the Center for Children's Books

"[H]elter-skelter cartoon sketches . . . record ups and downs in the life of a middle child of deftly unstated gender. . . . Readers with siblings will easily recognize the patterns of microaggression and socialization on display here, and, like the young narrator, see that time alone and time together both have their rewards."-Booklist 

"Weinberg, a middle child himself, has a knack for capturing the hardships middle kids deal with on a daily basis, whether being last of the sibs to pick a Popsicle or having to strategize the best time to be with Mom alone. And yet instead of depicting typical squabbles, the book is a proud tribute to this important role in the family. ('And I am right in the middle. Sometimes that is the best place to be.')-Parents Magazine

"The artwork is polished and professional . . . Characters are cleanly drawn and expressive, and their exuberant energy is barely contained by the lines that define them. [The Middle Kid is] a worthy addition to collections in need of accessible, realistic graphic novel-like beginning readers."-School Library Journal
Chronicle Books, 9781452181806, 76pp.
Publication Date: March 23, 2021
About the Author
Steven Weinberg writes and illustrates kids' books about hybrid animals, roller coasters, beards, and chainsaws. He is the author/illustrator of such titles as Rex Finds an Egg! Egg! Egg! and Fred and the Lumberjack, and is the illustrator of the AstroNuts series. He lives in the Catskills in New York with his family.