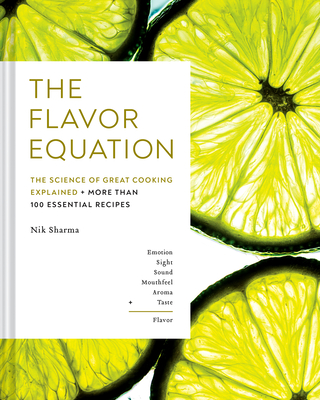 The Flavor Equation
The Science of Great Cooking Explained in More Than 100 Essential Recipes
Hardcover

* Individual store prices may vary.
Description
Finalist for the 2022 James Beard Cookbook Award and a Finalist for the 2021 IACP Cookbook Award

Named one of the Best Fall Cookbooks 2020 by The New York Times, Eater, Epicurious, Food & Wine, Forbes, Saveur, Serious Eats, The Smithsonian, The San Francisco Chronicle, The Los Angeles Times, The Boston Globe, The Chicago Tribune, CNN Travel, The Kitchn, Chowhound, NPR, The Art of Eating Longlist 2021 and many more; plus international media attention including The Financial times, The Globe and Mail, The Telegraph, The Guardian, The Independent, The Times (U.K.), Delicious Magazine (U.K.), The Times (Ireland), and Vogue India and winner of The Guild of U.K. Food Writers (General Cookbook). Finalist for the 2021 IACP Cookbook Award.

"The Flavor Equation" deserves space on the shelf right next to "Salt, Fat, Acid, Heat" as a titan of the how-and-why brigade."– The New Yorker

"Deep and illuminating, fresh and highly informative… a most brilliant achievement." – Yotam Ottolenghi

"[A] beautiful and intelligent book." – J. Kenji López-Alt, author The Food Lab and Chief Consultant for Serious Eats.com

Aroma, texture, sound, emotion—these are just a few of the elements that play into our perceptions of flavor.

The Flavor Equation demonstrates how to convert approachable spices, herbs, and commonplace pantry items into tasty, simple dishes.

In this groundbreaking book, Nik Sharma, scientist, food blogger, and author of the buzz-generating cookbook Season, guides home cooks on an exploration of flavor in more than 100 recipes.

• Provides inspiration and knowledge to both home cooks and seasoned chefs
• An in-depth exploration into the science of taste
• Features Nik Sharma's evocative, trademark photography style

The Flavor Equation is an accessible guide to elevating elemental ingredients to make delicious dishes that hit all the right notes, every time.

Recipes include Brightness: Lemon-Lime Mintade, Saltiness: Roasted Tomato and Tamarind Soup, Sweetness: Honey Turmeric Chicken Kebabs with Pineapple, Savoriness: Blistered Shishito Peppers with Bonito Flakes, and Richness: Coconut Milk Cake.

• A global, scientific approach to cooking from bestselling cookbook author Nik Sharma
• Dives deep into the most basic of our pantry items—salts, oils, sugars, vinegars, citrus, peppers, and more
• Perfect gift for home cooks who want to learn more beyond recipes, those interested in the science of food and flavor, and readers of Lucky Peach, Serious Eats, Indian-Ish, and Koreatown
• Add it to the shelf with cookbooks like The Food Lab: Better Home Cooking Through Science by J. Kenji López-Alt; Ottolenghi Flavor: A Cookbook by Yotam Ottolenghi; and Salt, Fat, Acid, Heat: Mastering the Elements of Good Cooking by Samin Nosrat.
Praise For The Flavor Equation: The Science of Great Cooking Explained in More Than 100 Essential Recipes…
"Whatever your skill level in the kitchen, with its more than 100 recipes, illustrated diagrams, and Sharma's own evocative photography, The Flavor Equation is an engrossing guide to elevating simple dishes into holistic experiences." -Eater, Best New Cookbooks Fall 2020

"Some consider cooking to be a series of chemical and thermodynamic reactions, others see it as an embodiment of heart, emotion, culture, and family. In The Flavor Equation, Nik Sharma shows us how these elements-the brain and the heart-are not at odds with each other, but that they are in fact intimately intertwined. Understanding their interaction is the key to unlocking flavor in your own cooking, as Nik demonstrates in this beautiful and intelligent book." -J. Kenji López-Alt, author The Food Lab and Chief Consultant for Serious Eats.com

"The Flavor Equation is destined to be classic: original, thought-provoking, and illuminating. It is a book that will change the way you think about food and cooking, and will help to make all your other cookbooks make sense." -Nigella Lawson, author of At My Table 

"In The Flavor Equation, Nik marries the art and science of cuisine. It offers a holistic approach to cooking at home; one that celebrates both chemistry and emotion, in both the creation and enjoyment of our meals." -Stella Parks, pastry chef and author of BraveTart: Iconic American Desserts 

"If you're interested in flavor-and every cook is, that's what we constantly think about-this book is for you. I haven't learned so much from a single book in a very long time. I'm now cooking my way through it." -Diana Henry, James Beard award-winning author of A Bird in the Hand

"Nik Sharma answers the hows and whys of taste from a scientific perspective as well as one from a well-seasoned cook. The multicultural flavors that are sure to entice anyone's taste buds to spring into action. Anyone wanting to take a deep dive into how to make food taste better will revel in Nik's thoroughly researched-and gorgeously photographed-treatise on the topic." -David Lebovitz, author, My Paris Kitchen and Drinking French

"Nik Sharma has created an irresistible book that makes you want to immediately jump in the kitchen. There is not a single recipe that I would not want to cook, I am dying to make them all! This book helps you understand the deep complexities that surround our food, and how much it can mean to us." -Pati Jinich, chef, cookbook author and host of PBS Pati's Mexican Table 

"As someone with his own obsession with flavor, I find Nik Sharma's take on it totally fascinating. It is deep and illuminating, fresh and highly informative. That, combined with his always-sumptuous food and staggering photographs, makes The Flavor Equation a most brilliant achievement." -Yotam Ottolenghi, chef and author of Jerusalem

"The Flavor Equation is written by someone who understands flavor first. This is not a book for geeks who want to deep dive into amino acids, gels, and osmosis. This is a book about how to turn out food that optimizes flavor. Nik Sharma and others are teaching us that good food is not about technique per se: years standing in front of the stove, advanced knife skills, and mastering pastry technique. It's about crafting flavor through an understanding of what flavor actually is." -Christopher Kimball, founder, Milk Street(from the foreword)

As with his previous book, recipes are easy to follow and the photographs are mouth-watering. Helpful diagrams, charts, and illustrations are presented throughout. This book will appeal both to those who want to expand their Indian cooking repertoire and those who want to know more about the scientific background behind cooking itself.-Library Journal
Chronicle Books, 9781452182698, 352pp.
Publication Date: October 27, 2020
About the Author
Nik Sharma is the writer, photographer, and recipe developer behind A Brown Table, an award-winning blog, and Season, his first cookbook, which was featured on the New York Times best cookbooks list in Fall 2018. Nik lives in Santa Monica, California.