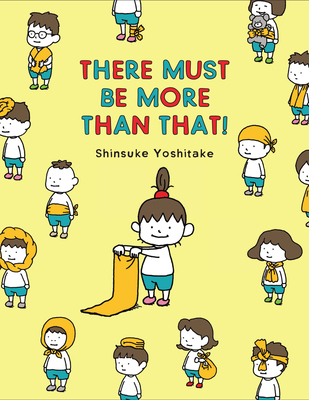 There Must Be More Than That!
Hardcover

* Individual store prices may vary.
Description
From the creator of The Boring Book, a New York Times Best Illustrated Children's Book

Shinsuke Yoshitake is back with a witty, thought-provoking picture book for our times.

There Must Be More Than That! is all about perspective, and wading past the bad to embrace the possibility of good.

• A thoughtful and laugh-out-loud exploration into an uncertain ever after
• Empowers readers to choose their own future
• A powerful antidote to anxiety for kids unsure about current events and what comes next

What does the future hold? This question can be daunting—or delightfully promising!

Readers of all ages will seek solace in this smart and spirited exploration of the good that might be right around the corner.

• Perfect for fans of Shinsuke Yoshitake
• Resonates year-round as a go-to gift for birthdays, holidays, and more
• Ideal for children ages 5 to 8 years old
• A great pick for parents and grandparents, as well as librarians and teachers
• Add it to the shelf with books like Sofia Valdez, Future Prez by Andrea Beaty; What Do You Do With an Idea? by Kobi Yamada; and Dream Big, Little One by Vashti Harrison.
Praise For There Must Be More Than That!…
"[There Must Be More Than That!] has a compelling universality [and] stresses a positive mindset as one answer to times of uncertainty that may be stressing young children. Relevant, charming, this flips the mindset of a limiting binary choice and renders the multitudes of possibility in a very accessible, childlike way."-School Library Journal

"Mr. Yoshitake's comic drawings show that in life there are unexpected options and many possible types of future. . . . Children ages 6-10 are the intended audience for this book, but adults would do well to absorb its robust and encouraging message. It's true that in these uncertain times we face political division and cultural disarray; but we also live in an age of technological wonders and unfurling medical discoveries. As the child in the book says to her grandmother, 'Who knows? You could end up living for 300 years!' Not realistic, but so what? Optimism is the art of defaulting to hope."-The Wall Street Journal 

"A child who doesn't like her choices discovers the revolutionary promise of thinking outside the box. . . . Yoshitake creates a vivacious cast, using dots, tiny dashes, subtle body angles, and expressive gestures to great effect. . . . Long thoughts and fresh heart for readers feeling helpless in the face of scary futures."-Kirkus Reviews, starred review

"In an era specializing in dark predictions, Yoshitake (I Can Be Anything) gives young readers a new way of thinking about what's to come. . . . It's easy to smile at Yoshitake's square-headed characters and endless stream of lighthearted thought experiments in this gently goofy book, which offers a hopeful corrective to grown-up pessimism."-Publishers Weekly

"Shinsuke Yoshitake, the popular Japanese author-illustrator of many award-winning books, including "I Can Be Anything" and "The Boring Book," considers how overwhelming the future can be to a child in There Must Be More Than That!. . . . Yoshitake is a master of thoughtfully working with a Big Problem-in this case, the future-and recasting it in an approachable, humorous way that a youngster can deal with. The pictures that accompany the text, drawn in an unadorned cartoon style in primary colors, do a good job of briskly moving this entertaining, yet serious, story along."-The New York Times
Chronicle Books, 9781452183220, 32pp.
Publication Date: October 6, 2020
About the Author
Shinsuke Yoshitake is the author-illustrator of many award-winning picture books, including I Can Be Anything, The I Wonder Bookstore, and The Boring Book, a New York Times Best Illustrated Children's Book of the Year. His books have been translated into more than eight languages. He lives in Japan.