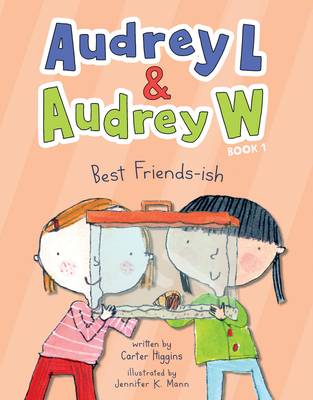 Audrey L and Audrey W
Best Friends-ish: Book 1
Hardcover

* Individual store prices may vary.
Description
The unique writing of Ivy + Bean meets the pep of Clementine and the authentic humor of Dory Fantasmagory in this chapter book series about two girls with the same name and absolutely, definitely, NOTHING else in common.

Over the course of a week in school, this bighearted, true-to-life chapter book will resonate with any young reader who's ever felt overlooked, second-best, or defined according to someone else. The first in a series, Best Friends-Ish provides a fresh take on the joys and traumas of elementary school drama.

More than anything, second-grader Audrey wants to be the best at something. It always feels like she's not-quite-enough—not smart enough, not fast enough, not funny enough.

When her beloved Miss Fincastle announces that a new girl, another AUDREY, is joining the class, Audrey suddenly becomes Audrey L., which makes her feel worse than ever.

But is the new Audrey all bad? Might the two Audreys have more in common than just their name? And if the girls become friends, how will Audrey ever figure out how to be her best self—if she can't even be the best Audrey?

Visually dynamic and narratively unique, this chapter book series is perfect for fans of the Ivy + Bean, Deckawoo Drive, and The Penderwicks series.

TONS OF ILLUSTRATIONS: The book has many black and white illustrations throughout, providing newer readers with the perfect on-ramp from early readers into novels. There's something visual on every page.

EMPATHY READ FOR BEGINNING READERS: This book is about embracing people's differences, understanding their similarities, and making new friends.

COMING-OF-AGE IN ELEMENTARY SCHOOL: This book encourages young readers to consider and celebrate the things that make them unique, while recognizing that sharing some of those traits with someone else isn't a bad thing.

A DILEMMA EVERY KID FACES: Having to share a name with a classmate is one of the biggest nightmares for a kid. That extra last name initial becomes a part of who you are for years to come. It's an annoying, funny subject that kids everywhere will relate to.

UNFORGETTABLE, FUNNY WRITING: Carter Higgins's writing is special. This storytelling is friendly, funny, and genuinely good, with an unforgettable voice that doesn't sound like any other chapter books.

Perfect for: Beginning readers, Parents, Educators, Librarians, Grandparents, Anyone looking for a new series, Readers who love books set at school
Praise For Audrey L and Audrey W: Best Friends-ish: Book 1…
"Mann's droll illustrations capture the full range of changing emotions and convey character diversity . . . Audrey L's struggles to establish herself within the chaotic social hierarchies of elementary school are endearingly authentic. Funny and engaging."-Kirkus Reviews

"An instant companion for Ivy Bean and Clementine, this sweet series-starter holds plenty of promise."-Booklist

"[S]ensitive and gently humorous. . . Higgins (Bikes for Sale; This Is Not a Valentine) captures the complicated dynamics of nascent friendships and perceived hierarchies through small moments that ring with authenticity and humor. Mann (The Camping Trip) drops thematic hints through chapter headers, while spot illustrations featuring moon-faced characters appear in shaded line drawings throughout the story. Well-paced chapters conclude satisfactorily while planting seeds for future installments to feature the classmates and Audrey L's 'funny... and weird' family. A natural fit for fans of odd-couple friendship stories like Ivy Bean and funny school stories like Jo Jo Makoons, this series starter promises double the fun."-Shelf Awareness

"This delightful tale of friendship struggles and the uncertainties of school shines with humor and spirit. Mann's black-and-white line ­illustrations help break up the text and nicely complement the two Audrey's adventures. . . . A great addition to libraries where memorable girls like 'Ivy + Bean,' and 'Judy Moody' are popular."-School Library Journal

"Higgins has a keen ear for both the chaos of elementary school classrooms and the turbulent inner lives of elementary aged kids . . . The text is simple and direct but often steeped in the sensorial, effectively conveying Audrey L's emotions . . . Black and white illustrations recall Quentin Blake's scratchy pencilwork muted with dappling shades of gray. Readers who've outgrown the first-grade escapades of Green's [Princess Posey and the First Grade Parade] but aren't quite ready for English's Carver Chronicles . . . will find their sweet spot with this easy reader."-The Bulletin of the Center for Children's Books

"A rapport develops between two second graders in search of belonging in this crisply written chapter book debut, a series starter by Higgins (Circle Under Berry). . . . Straightforward plotting emphasizes Audrey L's emotional journey and the classroom dynamics, while sketchlike bw illustrations by Mann (The Camping Trip) break up the chapters. The Audreys make a winsome pair, and Higgins's empathic approach to storytelling promises more gentle hijinks as they navigate school and friendship."—Publishers Weekly
Chronicle Books, 9781452183947, 184pp.
Publication Date: October 5, 2021
About the Author
Carter Higgins is the author of many books for kids, such as Everything You Need for a Treehouse, Bikes for Sale, and Circle Under Berry. This is her first chapter book. She writes about picture books and graphic design at her blog, Design of the Picture Book. She lives in Los Angeles, California, but you can always find her on Twitter and Instagram @carterhiggins.

Jennifer K. Mann lives on an island in the Pacific Northwest where she tends chickens, dogs, cats, and her kids and husband, when they aren't tending her. Jennifer draws many of her ideas from her own life experiences, or those of her children—and yes, some of her characters are quite autobiographical.