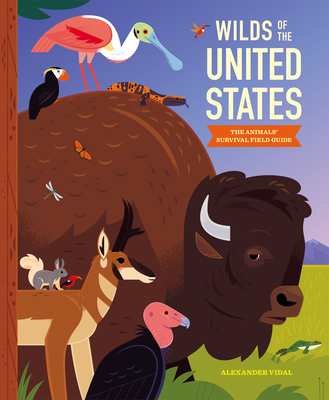 Wilds of the United States
The Animals' Survival Field Guide
Hardcover

* Individual store prices may vary.
Description
The definitive guide to the wildlife of the United States.

Do you know which animal evades rattlesnakes by dancing?

Or that some squirrels can glide on the air for hundreds of feet?

Or that alligators can create their own year-round pools?

Put on your best pair of hiking boots, grab a sturdy walking stick, and explore the wild places of the United States with this stunning guidebook! Soak up new and shocking facts about this unexpected world of ours; pore over captivating, detail-rich illustrations; and discover surprising new creatures (some may be closer than you think!) every time you open the book. From glistening, snow-packed mountain ranges to searing deserts, this immersive and accessible guide is a one-stop shop for outdoor adventurers, animal enthusiasts, inquisitive minds—and anyone who listens to the call of the wild.

WILD CREATURES OF THE US: Alexander Vidal tells the story of the wild creatures of the United States, offering accessible and fun visual cues like flags and badges to identify particular features in a gamified, graphic, and eye-catching way.

ONE NATION: Focusing on the individual characteristics of different regions that collectively make up the rich, diverse, and unique place that is the United States, readers will be excited to both find their own hometowns and explore the places they've haven't been . . . yet! This book is perfect for fans of The 50 States!

OUR UNIQUE ENVIRONMENT: A great way to introduce conversations about the unique environment of the United States. Teachers and librarians will find this the perfect addition to their curricula!

FAMILY TRAVEL: Perfect for any family embarking on summer or spring break travel into the great outdoors, this engaging guide will inspire young adventurers and serve as the ideal gift for readers passionate about our wild environment.

GIFT BOOK: With lush illustration and a hefty, deluxe package, this is a fantastic gift for anyone who is passionate about the environment, animals, and traveling—regardless of age! It's also perfect for fans of oversize nonfiction like Maps and Animalium!

Perfect for:

• Nature enthusiasts
• Science teachers and educators
• Families who love road trips or national parks
• Children who love animals
• Anyone looking for artful gift books
Chronicle Books, 9781452184494, 128pp.
Publication Date: July 5, 2022
About the Author
Alexander Vidal studied cultural anthropology, and spent time living in Africa and Asia before starting his career in illustration. Travel, exploration, and a love for animals and wild spaces continue to drive the themes of his work. His clients have included the Monterey Bay Aquarium, The Sierra Club Magazine, and the California Academy of Sciences. In researching this book, Alexander Vidal visited wild spaces from Alaska to Florida, visiting more than 30 national parks, forests, and grasslands along the way. He hiked among bison in the grasslands, paddled through mangroves with sea turtles and stingrays, and got lost canoeing among alligators in the Okefenokee. Originally from Albuquerque, New Mexico, he lives in Los Angeles, California.