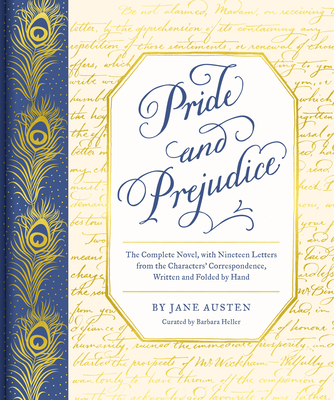 Pride and Prejudice
The Complete Novel, with Nineteen Letters from the Characters' Correspondence, Written and Folded by Hand (Classic Novels x Chronicle Books)
Hardcover

* Individual store prices may vary.
Other Editions of This Title:
Digital Audiobook (3/11/1995)
Digital Audiobook (8/23/2020)
Digital Audiobook (1/17/2021)
Digital Audiobook (12/19/2007)
Digital Audiobook (2/16/2015)
Digital Audiobook (4/24/2017)
Digital Audiobook (10/12/2017)
Paperback, Large Print (3/15/2016)
Paperback (11/1/2016)
Paperback (12/19/2012)
Paperback (1/13/2020)
Paperback (3/25/2013)
Paperback (3/10/2018)
Paperback (1/6/2016)
Paperback (5/9/2017)
Description
This deluxe edition brings to life the letters exchanged among Jane Austen's characters in Pride and Prejudice.

Glassine pockets placed throughout the book contain removable replicas of 19 letters from the story.

These powerful epistles include Lydia's announcement of her elopement, Mr. Collins's obsequious missives, and of course Darcy's painfully honest letter to Elizabeth.

• Nothing captures Jane Austen's vivid emotion and keen wit better than her characters' correspondence.
• Each letter is re-created with gorgeous calligraphy.
• Letters are hand-folded with painstaking attention to historical detail.

Perusing the letters will transport readers straight to the drawing room at Netherfield or the breakfast table at Longbourn.

For anyone who loves Austen, and for anyone who still cherishes the joy of letter writing, this book illuminates a favorite story in a whole new way.

• Step inside the world of Pride and Prejudice, one of the most beloved novels of all time.
• Great Mother's Day, birthday, or holiday gift for diehard Jane Austen fans
• A visually gorgeous book that will be at home on the shelf or on the coffee table
• Add it to the shelf with books like What Would Jane Do?: Quips and Wisdom from Jane Austen by Potter Gift, Jane-a-Day: 5 Year Journal with 365 Witticisms by Jane Austen Edition by Potter Gift, and The Real Jane Austen: A Life in Small Things by Paula Byrne.
Praise For Pride and Prejudice: The Complete Novel, with Nineteen Letters from the Characters' Correspondence, Written and Folded by Hand (Classic Novels x Chronicle Books)…
"This exquisite book presents the novel's full text along with 19 letters 'handwritten' by Mr. Darcy, Elizabeth Bennet, Caroline Bingley and others. Their notes, complete with appropriate postmarks, are dropped into pouches placed at just the right moments in the story. More than a gimmick, it's a dramatic way to experience the central role that correspondence plays in the novel." —<b><em>The Washington Post Book Club</em></b>

"The letters in Heller's edition of<em> Pride and Prejudice</em> are painstakingly detailed, from the style of folding (letters didn't have envelopes, so they served as their own containers) to the postal markings and wax imprints indicating price, mileage, date, etc.… These letters, with the various character traits that their appearances indicate, can bring 21st-century readers closer to Austen's world." —<b><em>Ted Scheinman, Smithsonian</em></b>
Chronicle Books, 9781452184579, 240pp.
Publication Date: September 15, 2020
About the Author
Barbara Heller is a set director for film and television, and writer and director of award-winning short films. She lives in New York City.