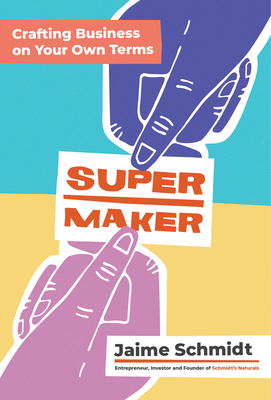 Supermaker (Hardcover)
Crafting Business on Your Own Terms (Women Entrepreneur Book, Guide to Start and Grow Your Business)
Chronicle Prism, 9781452184869, 160pp.
Publication Date: April 28, 2020
* Individual store prices may vary.
Description
Supermaker is a guide to business and career development by Jaime Schmidt: acclaimed entrepreneur, founder of Schmidt's Naturals, and icon of the Maker Movement.

In Supermaker, she shares how you too can start or grow your own business with advice on branding, product development, social media marketing, scaling, PR, and customer engagement, all based on her own hard-won mastery.

In just seven years, Jaime Schmidt went from making natural products in her Portland, Oregon, kitchen to turning her brand into a household name and selling her company to Unilever—without sacrificing the integrity of her product or her creative vision.

• Readers learn how to get ahead on their own terms and while maintaining their commitment to fair and sustainable principles.
• A valuable resource to the ever-growing community of business owners and entrepreneurs who want to go from maker to magnate.
• Candid advice from an industry disruptor.

Following her growth from farmers' market stand to international brand, Jaime's book is a riveting mix of inspiration, the honest airing of mistakes, and indispensable instruction.

Supermaker empowers and unites the next generation of entrepreneurs.

• A go-to guide for the passion-to-profit journey.
• The perfect read for aspiring entrepreneurs, makers, creatives, and anyone with an interest in natural products, selling your products online, retail strategy, and digital marketing.
• Great for anyone who enjoyed Start Something That Matters by Blake Mycoskie, Craft, Inc: Turn Your Creative Hobby into a Business by Meg Mateo Ilasco, and The Girls' Guide to Starting Your Own Business: Candid Advice, Frank Talk, and True Stories for the Successful Entrepreneur by Caitlin Friedman.
About the Author
Jaime Schmidt is an entrepreneur and maker who created Schmidt's deodorant in her Portland, Oregon kitchen in 2010, and led the company to acquisition by Unilever in December 2017. Since, Jaime has launched the progressive media company Supermaker, the inclusive investment fund Color, and continues to support the international expansion of Schmidt's. Her story has been covered by Forbes, Inc., Fast Company, FOX News, NBC's Today, Well+Good, and more. She speaks regularly at events such as Create & Cultivate, Beautycon, and the Ernst + Young Strategic Growth Forum.
Praise For Supermaker: Crafting Business on Your Own Terms (Women Entrepreneur Book, Guide to Start and Grow Your Business)…
"I'm so inspired by Jaime. As an entrepreneur myself, I love observing the journeys of women who have built massive businesses led by passion. When I look at what Jaime has built, I see more than a product. I see innovation and purpose. I am soaking in every chapter of this book as learnings!" —Deepica Mutyala

"Jaime's story of founding Schmidt's from her kitchen and growing it into a global brand is one for the ages." —Paul Polman, Unilever

"Jaime Schmidt is the quintessential maker-made-good." —Inc.

"It didn't take long for consumers nationwide to fall in love with her line of personal care products made with passion." —Marie Claire