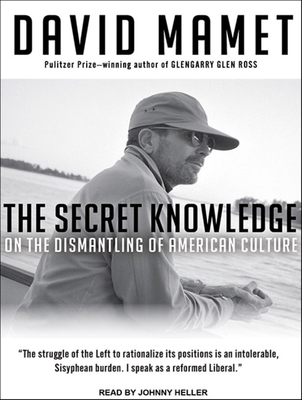 The Secret Knowledge: On the Dismantling of American Culture (MP3 CD)
On the Dismantling of American Culture
Tantor Audio, 9781452654010
Publication Date: August 9, 2011
Description
For the past thirty years, David Mamet has been a controversial and defining force in theater and film, championing the most cherished liberal values along the way. In some of the great movies and plays of our time, his characters have explored the ethics of the business world, embodied the struggles of the oppressed, and faced the flaws of the capitalist system. But in recent years Mamet has had a change of heart. He realized that the so-called mainstream media outlets he relied on were irredeemably biased, peddling a hypocritical and deeply flawed worldview. In 2008 he wrote a hugely controversial op-ed for the Village Voice, "Why I Am No Longer a 'Brain-Dead Liberal, '" in which he methodically eviscerated liberal beliefs. Now he goes much deeper, employing his trademark intellectual force and vigor to take on all the key political and cultural issues of our times, from religion to political correctness to global warming. Mamet pulls no punches in his art or in his politics. And as a former liberal who woke up, he will win over an entirely new audience of others who have grown irate over America's current direction.
About the Author
David Mamet is an acclaimed playwright, screenwriter, film director, and essayist whose many works include the Academy Award -nominated film "Wag the Dog" and the Pulitzer Prize-winning play "Glengarry Glen Ross."

Johnny Heller has narrated some five hundred books and garnered a bunch of swell awards and accolades, including "Publishers Weekly" Listen-Up Awards, Audie Awards and nominations, "AudioFile" Earphones Awards, and selection as one of "AudioFile" magazine's Top 50 Narrators of the 20th Century.
Praise For The Secret Knowledge: On the Dismantling of American Culture…
"A Manichean analysis from a strident new voice from the Right---for liberals, something intended to ignite antagonism; for the like-minded, a buttress against the opposition." ---Kirkus
Advertisement