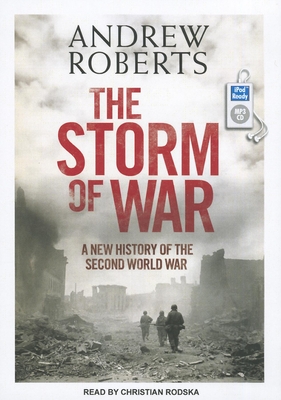 Storm of War: A New History of the Second World War (MP3 CD)
A New History of the Second World War
Tantor Media Inc, 9781452654034
Publication Date: July 26, 2011
Description
The Second World War lasted for 2,174 days, cost $1.5 trillion, and claimed the lives of more than 50 million people. What were the factors that affected the war's outcome? Why did the Axis lose? And could they, with a different strategy, have won? Andrew Roberts's acclaimed new history has been hailed as the finest single-volume account of this epic conflict. From the western front to North Africa, from the Baltic to the Far East, he tells the story of the war-the grand strategy and the individual experience, the cruelty and the heroism-as never before. In researching this magnificently vivid history, Roberts walked many of the key battlefields and wartimes sites in Russia, France, Italy, Germany, and the Far East, and drew on a number of never-before-published documents, such as a letter from Hitler's director of military operations explaining the reasoning behind the Fuhrer's order to halt the Panzers outside Dunkirk-a delay that enabled British forces to evacuate. Roberts illuminates the principal actors on both sides and analyzes how they reached critical decisions. He also presents the tales of many little-known individuals whose experiences form a panoply of the extraordinary courage and self-sacrifice, as well as the terrible depravity and cruelty, of the Second World War. Meticulously researched and masterfully written, The Storm of War gives a dramatic account of this momentous event and shows in remarkable detail why the war took the course it did.
About the Author
Andrew Roberts is the author of books including "Masters and Commanders," "Napoleon and Wellington," and "Salisbury," which won the Wolfson History Prize.

"AudioFile" Golden Voice Christian Rodska's twenty-year career in British theater encompasses radio plays, West End performances, television, and audiobooks. "AudioFile" has acclaimed Christian's performances of "Officers and Gentlmen," by Evelyn Waugh, "Switch Bitch" by Roald Dahl, and "In Patagonia" by Bruce Chatwin.
Praise For Storm of War: A New History of the Second World War…
"Roberts gives [listeners] a new, well-written retelling of the spectacular ebb and flow of World War II." ---Library Journal Starred Review
Advertisement